It's called Google Handwrite, and the new feature allows you to write out the letters of your search term using your finger or stylus on the screen of your smartphone. Google recognizes the letter you're tracing out and immediately adds it to the search bar, a method Google is pitching as perfect for those with only one hand available to search.
Typing out your query? No way, old man. Google Voice Search? What is this, 2011? Welcome, everybody, to the Year of the Finger.
Google Handwrite works on both iOS and Android devices, no installation required. (You must have iOS 5 on an iDevice, Android 2.3 or higher on a phone or Android 4.0 or higher on a tablet). To enable Google Handwrite, visit google.com on your phone or tablet, scroll to the bottom of the page, and hit the "Settings" button. (You may have to sign in with a Google account for this to work). On the Search Settings page, scroll down until you see "Handwrite" and then touch the "Enable" button. Save your settings at the bottom of the page; you will then be taken back to Google.com, where you'll be able to scribble away searches to your heart's content.
Google has posted more information, including screenshots, that show how to enable its Handwrite feature. It has also uploaded this handy (ha!) YouTube video to show you what Handwrite is all about: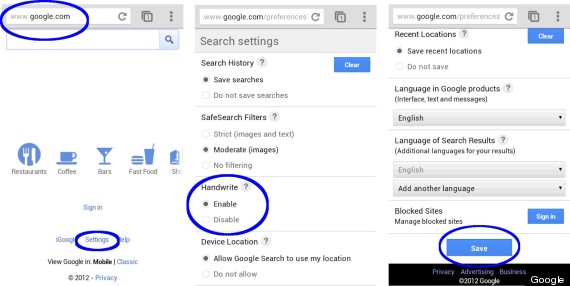 The steps to enable Google Handwrite on your phone or tablet, as provided by Google. How's your handwriting looking these days?
SUBSCRIBE TO & FOLLOW THE MORNING EMAIL
The Morning Email helps you start your workday with everything you need to know: breaking news, entertainment and a dash of fun. Learn more