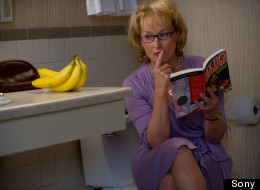 "Hope Springs"; or, the next film to prove Meryl Streep's box-office dominance in summertime is no fluke.
The new dramedy from Sony stars Streep and Tommy Lee Jones as a married couple who have lost their spark. It's only when they visit a marriage counselor (played by Steve Carell) that they start to lit each other up again ... at least until sex is brought up as the next step on their path to reconciliation. (Watch the awkward results from Carell's carnal request in the exclusive clip above.)
For Streep, "Hope Springs" will likely be the latest in a string of summer successes at the box office. In June of 2006, the three-time Oscar winner starred in "The Devil Wears Prada," which earned over $325 million worldwide. She followed that up with "Mamma Mia" in 2008 ($609 million) and "Julie & Julia" in 2009 ($129 million).
Of course, Streep isn't alone in "Hope Springs": As Carell proved last year with "Crazy Stupid Love" ($142 million worldwide), he's got the magic touch when it comes to adult-themed summer movies as well.
Directed by David Frankel (who also helmed the aforementioned "Devil Wears Prada"), "Hope Springs" arrives in theaters on Aug. 8. Watch the clip above and check back for more on the film in the lead up to its release.
Meryl Streep's Best On-Screen Fashion
Meryl has described her character as "a lovely, quiet, hapless girl... just behaving in a way that cowed girls, submissive girls, beaten-up girls with very few ways out have behaved forever and still do in many worlds." Her frilly, non-threatening dresses bear that out perfectly.

As Woody Allen's lesbian ex-wife, Meryl killed it in loose, I-don't-give-a-crap oxford shirts and skirts. Oh, and that long, loose 70s-tastic hair.

Playing the wife who ditches her husband to "find herself," Meryl embodied a strong yet low-key glamour that was the 70s' trademark.

Set in Madison County, Iowa, "The Bridges Of Madison County" found Meryl in country floral prints, button-downs, flats... and those blunt bangs.

Meryl got down to business with short hair and power blazers to play the ruthless Senator Eleanor Prentiss Shaw.

In the most fashionable part she (or possibly anyone) has ever played, Meryl wowed in ladylike yet powerful designer gear, replete with luxe details rendered in dark, intimidating colors. Everything about Miranda Priestly looked expensive.

Her character name was Yolanda Johnson, but Meryl could have easily gone by the name Stevie Nicks (with an extra dose of country) in this fanciful film. We're sorta digging the poofy blonde bangs...

When we grow up, we want to be Meryl in "Mamma Mia!": the wild mermaid hair, loose overalls, airy tops and beat-up boat shoes made for the ultimate carefree island wardrobe.

There were plenty of cardigans, pearls and ladylike a-line skirts when Meryl portrayed Julia Childs, known for her passionate love of fine French cuisine.

In this heartwarming if forgettable dramedy, Meryl proved that suburban moms can be chic, too. Plus her hair looked awesome.

Meryl embodied Margaret Thatcher's no-nonsense look with boxy handbags, bow blouses and shapely skirt suits.

Moviefone - The Iron Lady - Meryl Streep answers questions about "The Iron Lady".