Japanese photographer Naoya Hatakeyama is exploring the relationship between nature and humanity in a retrospective entitled "Natural Stories." The exhibit will be on display at San Francisco Museum of Modern Art starting on July 28th and will consist of more than 100 photographs and two video installations spanning the artist's entire career.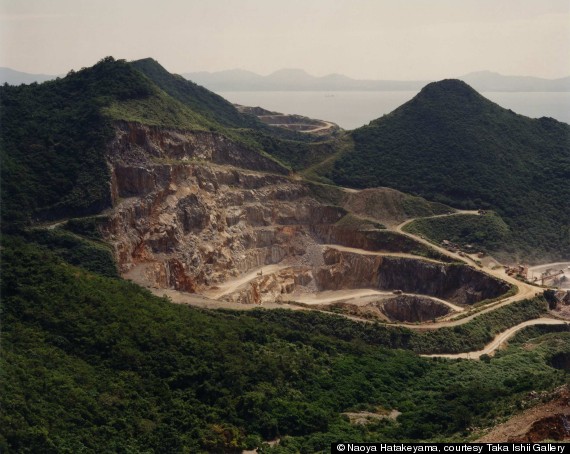 Naoya Hatakeyama, Lime Hills #22916, 1988; chromogenic print; 11 13/16 in. x 14 15/16 in. (30 cm x 38 cm); Tokyo Metropolitan Museum of Photography; © Naoya Hatakeyama, courtesy Taka Ishii Gallery
Over the past 25 years, Hatakeyama has become known for his interest in the ways in which human industries exist in the natural environment. His large-scale color photographs focus on both man-made and natural environments, capturing industrial structures like lime quarries and mines from the point of their origin until the moment of their demise, swept up by the powerful impact of the natural world. In the various photo series presented at SFMOMA, Hatakeyama's focus moves from quarries in the Japanese countryside to urban sewers in Tokyo to the mined hills of France, conveying a persistent and unsentimental concern with landscapes in transition.
Hatakeyama was born in Iwate on the northeastern coast of Japan, a setting marked by abounding limestone quarries and cement factories that served as early inspiration for the photographer. According to the exhibit's press release, he started his professional career after noticing that the quarries and the cities of his native country appeared like negative and positive images of the same photograph. In awe of the sublime beauty of the quarries' landscapes as well as the relentless invasion of modern development represented within it, Hatakeyama created his first photographic series titled "Lime Hills," the earliest group of images exhibited at the retrospective.
The artist's mastery of the sublime is rooted in traditions of Romantic painting as well as techniques taught to him by his early teacher, experimental photographer Ohtsuji Kiyoji. Hatakeyama approaches his subjects -- whether they are factories, sewers or demolition sites -- with a peaceful and distanced attitude, capturing the changing landscapes from various vantage points and in different moments in time. In this way, the photographer is able to study the collisions between nature and civilization as they occur, imagining and re-imagining processes that were intended to mold the surroundings but were eventually claimed by the unpredictable whims of natural forces like earthquakes and tsunamis.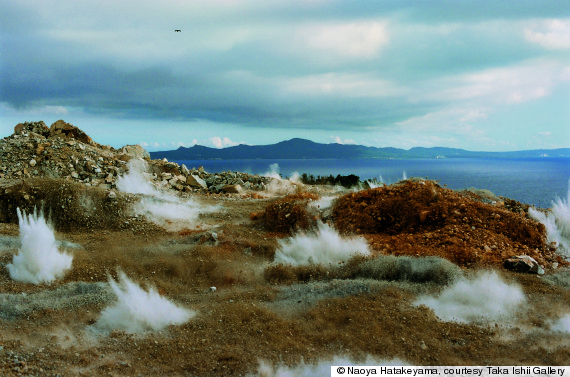 Naoya Hatakeyama, A BIRD/Blast #130, 2006; #3 from a series of 17 chromogenic prints, 8 in. x 10 in. (20.32 cm x 25.4 cm); San Francisco Museum of Modern Art, promised gift of Kurenboh; © Naoya Hatakeyama, courtesy Taka Ishii Gallery
It's these scenarios of collision that stand out in Hatakeyama's work, like in "Zeche Westfalen I/II," which features images of a German factory hall suspended in midair at the precise moment of its demolition, or in "Blast," a collection of photographs that document explosions that took place at an open-cast mine. And like the destruction imposed by man-made structures, Hatakeyama has captured the equalling forceful impact of natural disasters, most recently recording the aftermath of the 2011 Tohuku earthquake and tsunami that devastated his hometown. Titled "Rikusentakata," the series shows with refined observance the ways in which lands are subjected to the exacting power of forces beyond human control.
Hatakeyama's "Natural Stories" is imbued with a reverence for his home country's natural resources accompanied by a sense of marvel toward the structures built to extract them. By incorporating images of the Japanese landscape that reign symbolic and often mythological in traditional art -- the country's mineral-rich mountains, plains, and hills -- amongst images of industrial fetes of man, the photographs reveal the relationship between humanity and mother nature that hangs by a thread.
"Naoya Hatakeyama: Natural Stories" will be on display at the San Francisco Museum of Modern Art from July 28th until November 4th, 2012. Scroll down for images of the exhibit.
Naoya Hatakeyama's "Natural Stories" at SFMOMA
Naoya Hatakeyama, Lime Hills #12801,1986; chromogenic print; 11 13/16 in. x 14 15/16 in. (30 cm x 38 cm); Tokyo Metropolitan Museum of Photograph; © Naoya Hatakeyama, courtesy Taka Ishii Gallery

Naoya Hatakeyama, Lime Hills #22916, 1988; chromogenic print; 11 13/16 in. x 14 15/16 in. (30 cm x 38 cm); Tokyo Metropolitan Museum of Photography; © Naoya Hatakeyama, courtesy Taka Ishii Gallery

Naoya Hatakeyama, Lime Hills #23514, 1988; chromogenic print; 11 13/16 in. x 14 15/16 in. (30 cm x 38 cm); Tokyo Metropolitan Museum of Photography; © Naoya Hatakeyama, courtesy Taka Ishii Gallery

Naoya Hatakeyama, Lime Hills #29211, 1990; chromogenic print; 11 13/16 in. x 14 15/16 in. (30 cm x 38 cm); Tokyo Metropolitan Museum of Photography; © Naoya Hatakeyama, courtesy Taka Ishii Gallery

Naoya Hatakeyama, A BIRD/Blast #130, 2006; #3 from a series of 17 chromogenic prints, 8 in. x 10 in. (20.32 cm x 25.4 cm); San Francisco Museum of Modern Art, promised gift of Kurenboh; © Naoya Hatakeyama, courtesy Taka Ishii Gallery

Naoya Hatakeyama, A BIRD/Blast #130, 2006; #7 from a series of 17 chromogenic prints, 8 in. x 10 in. (20.32 cm x 25.4 cm); San Francisco Museum of Modern Art, promised gift of Kurenboh; © Naoya Hatakeyama, courtesy Taka Ishii Gallery

Naoya Hatakeyama, Still from Twenty-Four Blasts, 2011; HD video installation from a sequence of 35 mm film; Courtesy the artist; © Naoya Hatakeyama, courtesy Taka Ishii Gallery

Naoya Hatakeyama, Still from Twenty-Four Blasts, 2011; HD video installation from a sequence of 35 mm film; Courtesy the artist; © Naoya Hatakeyama, courtesy Taka Ishii Gallery

Naoya Hatakeyama, Trockener Steg (Matterhorn) #03001, from the series Untitled (Another Mountain), 2005; chromogenic print; 23 5/8 x 48 5/16 in. (60 x 122.7 cm); Courtesy the artist; © Naoya Hatakeyama , courtesy Taka Ishii Gallery

Naoya Hatakeyama, Sollac Méditerranée, Fos-sur-Mer, #06709, from the series Atmos, 2003; chromogenic print; 27 9/16 in. x 35 7/16 in. (70 cm x 90 cm).; Courtesy the artist; © Naoya Hatakeyama, courtesy Taka Ishii Gallery

Naoya Hatakeyama, Noyelles-sous-Lens, #07729, from the series Terrils, 2009; chromogenic print; 23 5/8 in. x 29 1/2 in. (60 cm x 75 cm); Courtesy the artist; © Naoya Hatakeyama, courtesy Taka Ishii Gallery

Naoya Hatakeyama, Loos-en-Gohelle, #02607, from the series Terrils, 2009; chromogenic print; 23 5/8 in. x 29 1/2 in. (60 cm x 75 cm); Courtesy the artist; © Naoya Hatakeyama, courtesy Taka Ishii Gallery