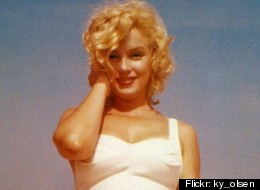 She may have sung "I'm Through with Love" in the 1959 hit "Some Like It Hot," but off-screen, Marilyn Monroe never gave up on finding the real thing.
In honor of the 50th anniversary of Monroe's death on August 5, we compiled some of her most memorable romances, from her three divorces to her alleged flings with Marlon Brando and JFK.
Marilyn Monroe's Marriages And Relationships
At 16, Marilyn Monroe -- then known as Norma Jean Baker -- married merchant marine James Dougherty in 1942. When Dougherty was sent on an overseas assignment, Monroe landed a job at a munitions factory in Burbank where she eventually caught the eye of a photographer. When Dougherty returned from overseas, he came home to a wife with a successful modeling career and dreams of becoming an actress. The pair divorced in 1946. Years later, Monroe reflected on her relationship with Dougherty, who went on to become a Los Angeles police detective: "My marriage didn't make me sad, but it didn't make me happy either," Monroe reportedly said. My husband and I hardly spoke to each other. This wasn't because we were angry. We had nothing to say. I was dying of boredom."

Eight years after her divorce, Monroe gave wedded bliss another shot with New York Yankees slugger Joe DiMaggio. As the couple emerged from San Francisco's City Hall after their civil ceremony on January 14, 1954, they were met by a throng of reporters and fans. Someone in the crowd reportedly shouted, "How many kids do you want?" to which Monroe, enjoying a career high as her husband's was on the decline, replied back, "I'd like to have six... I'm going to continue my career, but I'm looking forward to being a housewife, too." But on October 6, 1954, less than a year later, a tearful Monroe stood by silently as her lawyer Jerry Giesler held a press conference to announce the couple's divorce, chalking the split up to a "conflict of careers" (Watch the video here.) Still, years later, after Monroe had married and divorced playwright Arthur Miller, the two became close friends again. When Monroe died in August 1962, DiMaggio orchestrated her funeral.

On June 30, 1956, Monroe quietly wed Pulitzer Prize-winning playwright Arthur Miller in a civil ceremony in White Plains, New York. The couple seemed an odd match to many -- "Egghead weds hourglass," the Variety headline read at the time -- but as Monroe herself would put it, "[Arthur] wouldn't have married me if I had been nothing but a dumb blonde." The couples' marriage was filled with strife, including Miller being investigated for communist leanings and Monroe's miscarriages, depression and growing dependency on drugs. They separated after filming Monroe's last movie, 1960's "The Misfits," which Miller had written in the hopes of launching his wife's career as a serious actress. Reflecting on his life with Monroe later, Miller would write, "She was a whirling light to me then, all paradox and enticing mystery, street-tough one moment, then lifted by a lyrical and poetic sensitivity that few retain past early adolescence."

While filming "The Prince and the Showgirl" -- and during her marriage to Arthur Miller -- Monroe allegedly had a short fling with with 23-year-old film gofer Colin Clark. Clark would later go on to pen two books about his brief, innocent affair with the star -- "The Prince, the Showgirl and Me" and "My Week With Marilyn." "I've met all sorts of famous people, but Marilyn is different," Clark wrote in "My Week With Marilyn". "Her aura is incredibly strong and in the flesh is almost more than one can take. When I am with her my eyes don't want to leave her." In 2011, when the books were adapted into a Monroe biopic starring Michelle Williams, the LA Times called into question the claims in Clark's story.

In his 1994 memoir, "Brando: Songs My Mother Taught Me," Marlon Brando opened up about the nature of his relationship with Monroe, whom he met while both were students at Lee Strasberg's Actors' Studio in New York. "We had an affair and saw each other intermittently for years," Brando wrote. Elsewhere in the book, Brando says that in 1962, Monroe "called and invited me to come over for dinner. I already had plans but promised to call the following week. She said fine. Two or three days later, she was dead."

Monroe met President John F. Kennedy in February 1962, when British actor Peter Lawford -- JFK's brother-in-law -- invited the star to a dinner party in honor of the president. Sources claim the meeting led to a weekend rendezvous in Palm Springs. Lawford was also responsible for organizing the 1962 Madison Square Garden fundraiser for JFK, where Monroe gave her iconic performance of "Happy Birthday, Mr. President." The sultry performance fueled rumors of an affair between the movie star and the president that still live on today.