Mark Kirk Gives Health Update, Walks More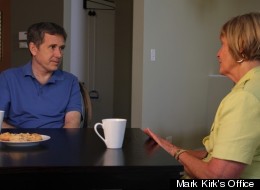 Sen. Mark Kirk (R-Highland Park) gave the first update on his health in more than two months Friday thanking Dr. George Hornby and the team at the Rehabilitation Institute of Chicago for his improved mobility in that time.
Kirk has been involved in a trial program at the institute aimed at speeding the recovery of stroke victims. In the last nine weeks, he has been involved in rigorous walking and other exercises.