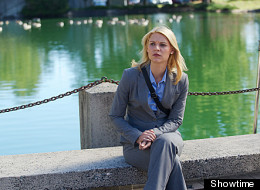 Claire Danes was surprised by "Homeland" getting a Season 2, but she's certainly not against it, especially because of her fondness for her character, Carrie Mathison.

"To be honest I never expected [the show] to get picked up so I wasn't sure what it was going to be like, but it's fun. It's like, 'Oh, there she is again!' I like her a lot," she told GQ UK via The Daily Mail.
Danes scored a Golden Globe -- and recently an Emmy nomination -- for her role on the Showtime drama about a prisoner of war who has been turned by a terrorist organization and the one woman (Carrie) who tries to stop him.
"She's like my kinky superhero alter ego now," Danes said. "Because as disturbed and troubled as she is, she's always f---ing right. Which is so nice because I so rarely am."
Season 1 of "Homeland" ended with Carrie being right about Brody (Damian Lewis), but believing she was wrong, the character undergoes electric shock therapy. The new season picks up about six months after the events that ended Season 1.
"Carrie has had, for the first time in her life, the benefit of professional help for her disease," "Homeland" executive producer Alex Gansa told HuffPost TV. "She will have been in the psych ward for awhile. She will have been in the care of a psychiatrist for six months. She will have undergone a series of these ECT therapies. [The treatment we saw in the Season 1 finale] is not just a one-off."
Danes is pregnant with her first child, but her pregnancy isn't expected to interrupt Season 2 production.
"Homeland" Season 2 kicks off on Sun., Sept. 30 at 10 p.m. ET on Showtime.
See what Danes had to say about her Emmy nomination in the slideshow below.
"As the show enters its last season, I'm gratified to be nominated again by the Academy."

"Wow. My agent was right when he said, 'You don't have to bribe all the people to get nominated, Don. Just the right people.' This is the best $246,000.00 I've ever spent. Thanks, Emmy."

"This is an incredible feeling, it is wonderful! To be nominated in this category and be in the company of these amazing women is a real honour and I am truly grateful to the Emmy voters for putting me in there!"

"To be part of a show like 'Downton Abbey' is thrilling enough, that it has been embraced by American audiences to the extent it has and for the show to have received 16 nominations from the Emmy voters this year is astonishing. I can hardly believe that I've been nominated alongside five legends of contemporary television drama - Steve, Bryan, Michael, Damian and Jon. I'm truly honoured."

"I'm enormously pleased and proud of our nominations, especially this year. Perhaps at no other time in television history has the competition in the drama category been so fierce. The fact that we've been recognized is a testament to the talent of our incredible cast and crew." (Steve Buscemi pictured)

"It's all about this phenomenal cast and Danny's excellent script -- he got it right. And HBO, the best and bravest studio in Hollywood, all these years."

"I love 'Nurse Jackie' and I'm very honored to be recognized by my peers. This year is particularly exciting with several of my castmates also being nominated. It is great year for 'Nurse Jackie'!"

"I'm so excited to have been nominated for an Emmy, especially for '30 Rock,' which is an incredible show and also for playing a deranged and deceased world dictator who has divided the small country of my origin in two. That's the best part. I think that's what I'd call iron curtain irony."

"I'd just like to say I'm delighted for Julian and everyone connected with the show. It's brilliant that 'Downton Abbey' has been nominated in so many categories as it is a real team effort and the nominations reflect that."

"This is the biggest and best shock of my life, I honestly didn't expect it and I'm overwhelmed. Amazing!"

"It's a great honor, though there should be parentheses next to my name with all of the 'SNL' writers. And now I have to kiss up to the cast members of 'Modern Family' in hopes that they pull a Ving Rhames and give me their award when they win."

"Thank you Academy. I am so happy to share this nomination with Clive. It is a true acknowledgment of Martha Gelhorn's life and amazing work. Discovering and playing her, under the guidance and passion of the great Phil Kaufman, was a joy and a privilege."

"I'm overwhelmed, it is a real privilege to be in this ensemble and I genuinely did not expect this. But I'm very honoured."

"So happy to get nominated! Can't wait to get back to the 'Late Night' office and celebrate! But first I gotta leave this theatre and change out of this Batman costume."

"I am thrilled for Lena, Jenni and our team. I am so lucky to get to work with these incredible women."

"I am really thrilled to be nominated for 'Hemingway and Gellhorn.' I had such a great time working with the brilliant Phil Kaufman and the wonderful Nicole Kidman."

"13 just got lucky. That's an amazing number of nominations for Sherlock and we are beyond thrilled. This has been a passion project for everyone involved and it's success has overwhelmed all of us. I think we're even more overwhelmed this morning."

"37 Emmy nominations is historic for MASTERPIECE and rewards the hard work of hundreds of people. Congratulations to all our gifted colleagues. We're honored to have presented quality work like theirs for over 40 years on PBS. In particular, for 'Downton Abbey' to be included in the fast-track race of Best Drama Series and to receive 16 nominations in total is beyond wonderful. Hooray to Julian Fellows, Maggie Smith, Hugh Bonneville, Joanne Froggatt, Brendan Coyle and Jim Carter. And 'Sherlock' (shown) rocks with 13 nominations. Steven Moffat and Mark Gatiss are television geniuses and it's gratifying that the Academy has recognized that."

"I wanted to be an actress since I was 2-years-old. It's always been my dream and ambition. This is the kind of moment you dream about. Never in my wildest dreams would I have imagined that I could have this incredible honor and recognition. It's just so exciting." [EW]

"'American Horror Story' was a really unique and special show, I felt so fortunate to be able to do it and to have this be the dividend from that is just really extraordinary." [THR]

"I'm so happy! Especially for the show getting a nomination too. I must admit though, I was dead asleep when they were announced. I don't wake up for these things; I feel like that jinxes it. Today I'm going to celebrate by getting my teeth cleaned. Oh yes, I'm splurging!" [THR]

"There are so many amazing performances this year by actors I really admire that it means a lot to me to being included among them." [EW]

"In most cases, anything that that remotely has to do with horror or the horror genre doesn't usually get a lot of [Emmy] love for whatever reason. So that was a huge hurdle [we had to overcome]. I was pretty sure Jessica [Lange] would get nominated, and obviously the special effects, but other than that I had no clue; I was very surprised." [TVLine]

"I'm blown out of my mind and I'm thrilled beyond words."

"I don't even know that I was that conscious of the Emmys even when I was on TV as a young person, it wasn't as big of a publicized deal as it is now -- but I never ever pictured myself up there ... We're going to Legoland with the kids, and my best friend said she would buy me two vegan cupcakes today." [THR]

"I have an extra special performance of 'Harvey' today which will find me happier than normal." [THR]

"Filming the 'Hatfields & McCoys' was one of the most fulfilling and inspiring projects that I've had the opportunity to work on, and it was truly gratifying that audiences tuned in to see our interpretation of this classic American story. To be recognized for our work by the members of Television Academy this morning is the cherry on top. I share this nomination with everyone who contributed to this project from the producers, cast and crew to the great team at History, who really stepped up to support the creative vision of the filmmakers."

"I'm shocked and humbled by this Emmy nomination and excited for Kevin, Mare and Tom and all the Emmy nominations 'Hatfields & McCoys' has received. I should have grown the beard a long time ago."

"Some projects just have a special magic, a chemistry of actors, of producers, of director and location. History's 'Hatfields & McCoys' was one of those filming experiences. I didn't want to let go of it when it ended, and now I get to keep smiling in celebration with everyone involved."

"I couldn't have been more honored and even a bit overwhelmed when I heard the news. Every role on 'Mad Men' is written with great detail and weight and Lane Pryce was no exception. I loved my time on the show-- this is such an incredible way to walk away. Thanks to the incomparable Mr. Weiner and to my cast mates -- Jon, John, Lizzie, Christina, Vinnie, Embeth, and everyone else -- I can only be as good as those who I work opposite, and you are the best. To everyone at AMC, Lionsgate, the writers, and crew - my sincerest thank you, I had a blast."

"To receive that nomination, I am ecstatic for them for recognizing my work on what I consider to be a very very special production so I am very grateful." [THR]

"I am thrilled to be recognized by the Academy and to share this category with such exciting and accomplished actresses. 'Damages' has been the ride of a lifetime and I am honored to represent every single one of our extraordinary team. I would not be here without them, especially, KZK, our brilliant writers and my exquisite co-star, Rose Byrne. And I thank our wonderfully loyal and engaged audience who have never wavered in their love and support of our show."

"I am honored to be recognized by the Academy among such a talented group of women. I am thrilled that Damian, 'Homeland,' our amazing writers and director and so many others got nominated. It is a great day to be on set where we can all celebrate together."

"I am extremely surprised by the news and so grateful that people have enjoyed this season. I am very lucky to be a part of this show."

"I am so honored to be nominated for 'The Good Wife.' The Academy has been very supportive of me over the years and my appreciation is boundless."

"I am totally surprised and flattered. Just being nominated is an honor and enough for me. Whether I win or not is beside the point. The last award I ever got was a Boy Scout badge in 1952. I think I still have it."

"I had so much fun hosting -- it was like coming home. Getting to go back and play with your friends ... there's nothing better. Hosting 'SNL' was my childhood dream, while other kids were playing princess I was doing impressions of Roseanne Roseannadanna. This is an amazing honor and one I share with Lorne, and all the incredible cast and writers of 'SNL.'"