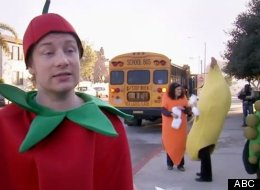 Jamie Oliver's quest to bring healthier school lunches to the children of Los Angeles might have been met with significant hurdles, but he inspired some of the right people -- his story is going to be adapted into a movie, according to the Hollywood Reporter.
Ryan Seacrest is co-producing the film (he also produced Oliver's "Food Revolution"). The Hollywood Reporter has more:
The story centers on a hot Los Angeles chef known for his popular gourmet food truck who gets into trouble and is sentenced to work at a school. The chef revamps the lunch program with a ragtag group of kids.
So, think "Mighty Ducks" mixed with "School of Rock."
Will Ferrell and Sean William Scott are apparently on the short list to play Oliver.
Between this and the "Blood, Bones & Butter" adaptation, it seems like Hollywood sees a future in food films.
[via Eater]