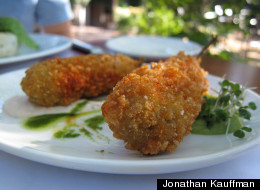 Every month, HuffPost SF joins our friends at Tasting Table to highlight our five favorite discoveries from our scouting expeditions around the Bay Area's culinary scene. Here's what caught Tasting Table San Francisco editor Jonathan Kauffman's eye in July.
St. Helena's Martini House has undergone a serious renovation, but its new incarnation, Goose & Gander, is as successful as its last. Chef Kelly McCown's food is polished and creative, including such hits as jalapeño poppers stuffed with Cotija cheese, and ricotta gnocchi embellished with cherry tomatoes and a Parmesan crisp. With renowned tender Scott Beattie behind the bar, cocktails are required drinking.

The Soup Junkie pop-up, which sometimes sold out of its Vietnamese and Chinese soups within the hour, has found a permanent spot as a takeout window in the Financial District. Downtown workers rarely eat so well as when they order owner Hung Lam's signature bun rieu, a noodle soup with an ephemeral crab omelet, or his banh mi sandwich stuffed with slow-roasted pork.

With a slogan like "I bleed kimchi," you know the chef-owner of FuseBox in West Oakland takes pickling seriously. In fact, all the vegetable dishes here--pickles of many stripes, grilled vegetable skewers, turnip-green ohitashi with dried anchovies--are treated with reverence. Although dinner plans are in the works, this Japanese-Korean restaurant is still only open for lunch.

While the city magazines proclaim Park Tavern and Original Joe's the heart of the "new North Beach," 18-year-old Da Flora is still cooking with tremendous heart. Inspired by Venice, chef Jen McMahon prepares lovely renditions of porchetta tonnato (roast pork with tuna sauce), dandelion-greens salad, and sweet-potato gnocchi with smoky bacon and a sherry-cream sauce.

Boris Portnoy, former pastry chef at the four-star Meadowood, has rigged an ingenious cart to his scooter. He's installed a propane-fired tandoor oven and is using it to bake flatbreads from the Republic of Georgia, including a cheese-stuffed bread topped with his own chile-herb sauce, and roast lamb with sour plum sauce.