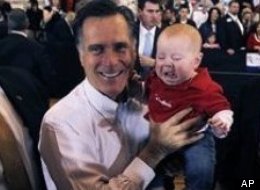 Politicians kissing babies is a campaign trail classic, but not every candidate's encounter with a kid turns out to be a a Kodak moment.
As we've examined before, for every smiling child with a shiny, new campaign button you get several more who are bored, confused or downright terrified by the person running for office. It may not make for a wonderful photo-op as planned, but thankfully for us, campaign photographers document the bad with the good.
The result? The hilarious moments captured below. Check out 19 examples of how much kids truly despise politics, as right they should. Vote on each picture and send us your own if your child has had a less-than-pleasant encounter with a politician.
"I voted for Hillary in the primary. It still stings a little."

"Shh... You'll end up on YouTube again."

Baby. Cry. Bad?

"He's going to sign me, isn't he? Why won't these bodyguards DO something?!"

After five kids and 23 foster children, she's still got it!

"No, seriously, they have these monthly Amtrak passes..."

At least with the photo it will be easier to describe this moment to his therapist later.

"OK guys, seriously? Is there something on my head?"

"This guy sticks his tongue out more than I do!"

She's signaling the other babies in the audience to simultaneously start crying.

"Look, anything that isn't the grown-ups-and-water table!"

This baby was actually the first person to know about his running mate plans.

"Why are all these old people staring at me and smiling?"

"And what exactly is your position on Pokemon?"

Stickers and T-shirts can only hold their attention for so long.

"Sure, he can run a country, but can he beat me in Call Of Duty?"

"Look, if you forget the third thing again, just say 'monkey bars.' That always works."

"We've been here for three hours and I have yet to see whatever a Mitt Romney is."

"You said we were going to Disney World."