This is part of our "True Story Told In Pictures" feature, which is exactly what it sounds like.
Last night, Kim Kardashian and Kanye West did what many before them have tried and failed to do: they got into "The Book Of Mormon." The Tony-winning musical created by South Park's Trey Parker and Matt Stone is still selling out at the Eugene O'Neill theater, despite the departure of key cast members Andrew Rannells and Josh Gad (replaced by Nic Rouleau and Jared Gertner, respectively). For those not lucky enough to win a ticket in Broadway's ticket lotteries, the options for "Mormon" are pretty dire: stand in the O'Neill today, or sit no sooner than January 2013.
We may never crack the mystery of how Kimye (yes, that's what they're called now) got the hottest tickets in town. We can guess that their enormous bags of money had something to do with it, but we can say no more than that. What we can investigate however, without breaking a sweat, is how "Kimye's Komedy 'n Kulture Knight" played out on Twitter.
The story begins at the show: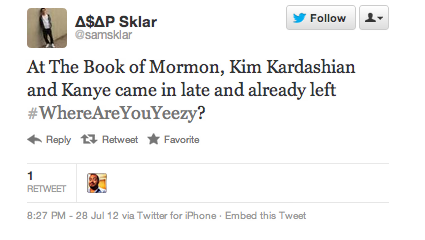 In late and out early...how famous of them! In no time we had a bonafide Kardashian review in less than 140 characters.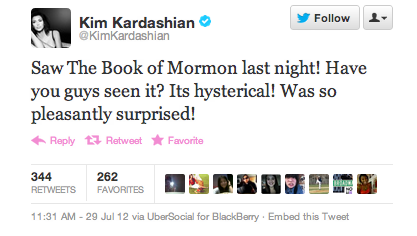 Somewhere, a person making one of those signs for the sides of buses is swapping out Jon Stewart's "So good it makes me angry" for "Have you guys seen it? Its hysterical! Was so pleasantly surprised!" "When "it's" is used like that, there's supposed to be an apostrophe," the person mutters under breath. Actually, scratch that. The advertising capital of a Kardashian tweet probably has a short half-life. Has it already been tapped?:

The frog in question features prominently in "The Book of Mormon." We won't say any more. But whoever runs the Book Of Mormon Twitter page wasn't done there, bless 'em. It was time to introduce a potential meme:

Kim Kardashian in a sexy pose, oblivious to the Broadway inside joke at her elbow.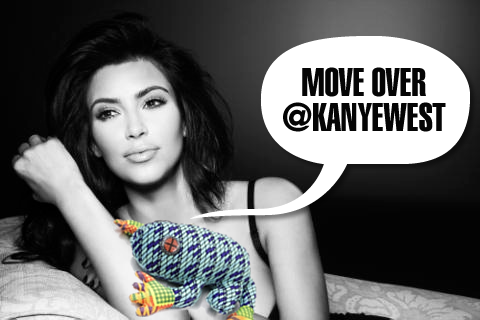 Is her obliviousness a metaphor for how "pleasantly" surprised she was that the show every single critic in the world has called the funniest thing ever was actually funny? Maybe it is. Maybe it is.

SUBSCRIBE TO & FOLLOW THE MORNING EMAIL
Start your workday the right way with the news that matters most. Learn more