We're used to seeing the Olsen twins gussied up in gobs of eyeliner, satiny couture and enough accessories to weigh down a Goodyear blimp.
But sometimes the designers, 26, who took home this year's Best Womenswear Designer award at the CFDAs for their line The Row, take their look down a notch. Want proof? Keep reading.
Mary-Kate Olsen channeled the twins' famous "homeless chic" look at New York's JFK airport, ditching her standard high-fashion look for a more plane-ready outfit. MK, whose latest choice of boyfriend is raising eyebrows, dressed things down (and dark) in an all-black ensemble, save for a pair of leopard print loafers. Her face was also scrubbed free of makeup, which, let's be honest, is our go-to airport beauty look too.
The biggest question mark, though, was Olsen's ratty-looking straw fedora... was she headed to a hipster beach rave?
Check out Mary-Kate's airport outfit below, and scroll down to see more celebs without makeup.
Scroll down for more photos.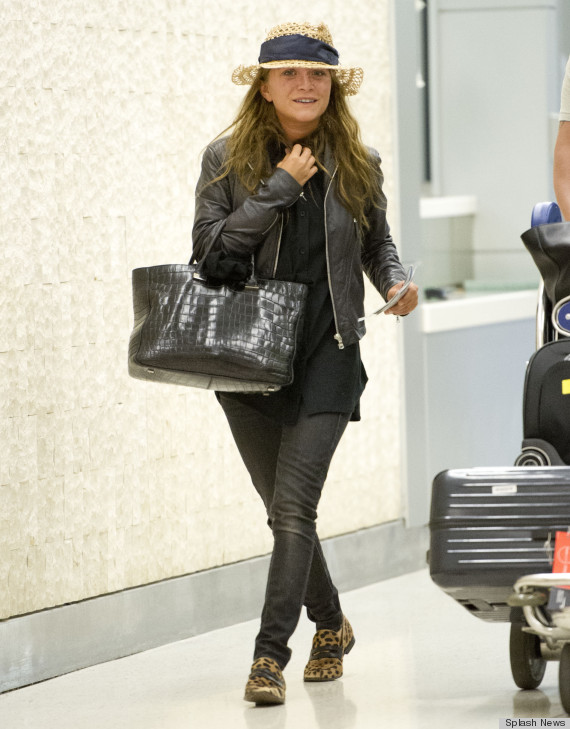 Loading Slideshow
Demi Lovato

Britney Spears

Krysten Ritter

Claire Danes

Kate Moss

Rachel Hunter

Katy Perry

Jessica Stam

Selma Blair

Rita Ora

Fergie

Tilda Swinton

Paris Hilton

Rosie Huntington-Whiteley

June 2011

Mila Kunis

April 2012

Brooke Shields

October 2012

Brooke Shields

August 2011

Jessica Simpson

Cameron Diaz

August 2011

Jessy Schram

Britney Spears

September 2011

Sarah Jessica Parker

October 2011

Ellen Pompeo

July 2011

Ellen Pompeo

January 2012

Kate Hudson

August 2011

Ciara

August 2011

Minka Kelly

April 2011

Kate Moss

September 2011

Kate Moss

September 2012

Kate Moss

September 2012

Zoe Saldana

September 2011

Liv Tyler

September 2011

Janice Dickenson

Liv Tyler

November 2011

Busy Phillips

Halle Berry

September 2011

Jennifer Love Hewitt

October 2011

Jennifer Love Hewitt

April 2012

Elle Fanning

October 2011

LeAnn Rimes

LeAnn Rimes

October 2012

Salma Hayek

October 2011

Uma Thurman

October 2011

Marion Cotillard

November 2011

Hilary Duff

October 2011

Maria Bello

November 2011

Lala Vazquez

November 2011

Kim Kardashian

November 2011

Snooki

October 2012

Goldie Hawn

October 2012

Amber Valletta

March 2013
Want more? Be sure to check out HuffPost Style on Twitter, Facebook, Tumblr and Pinterest.
Also on HuffPost: