Selena Gomez has a bangin' new haircut (pun intended)!
On Saturday, the teen superstar posted a photo of her new do on her Twitter page with the caption, "new hair for a new movie :) I love changing my hair!"
That same day, Selena posted the same photo to her official Facebook page and the photo got over 200,000 comments (most of her fans seemed to love the new look!). And we can see why! Selena looks absolutely gorgeous with bangs!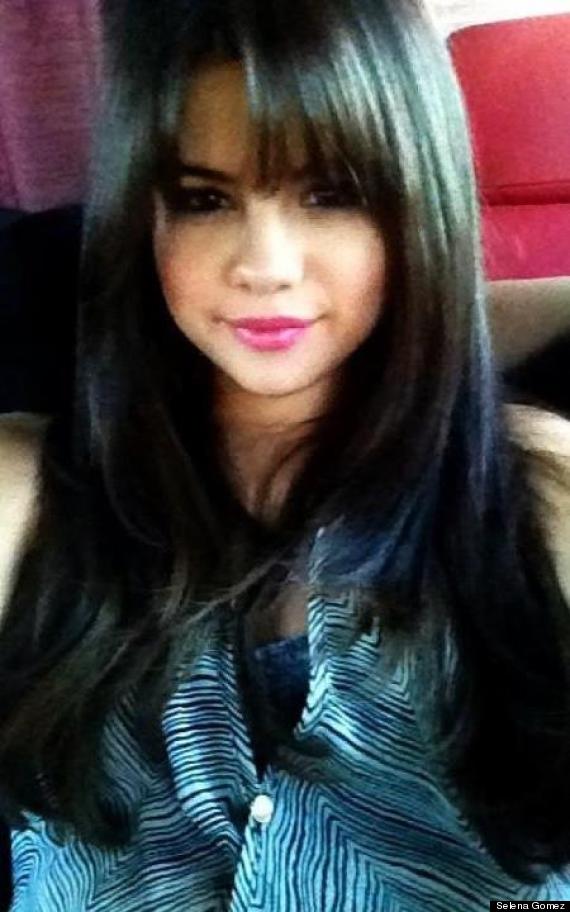 The Mexican-American singer has been experimenting with her hair quite a bit lately. On July 21st, a day before her 20th birthday, Selenita tweeted this photo of her sporting a birthday braid.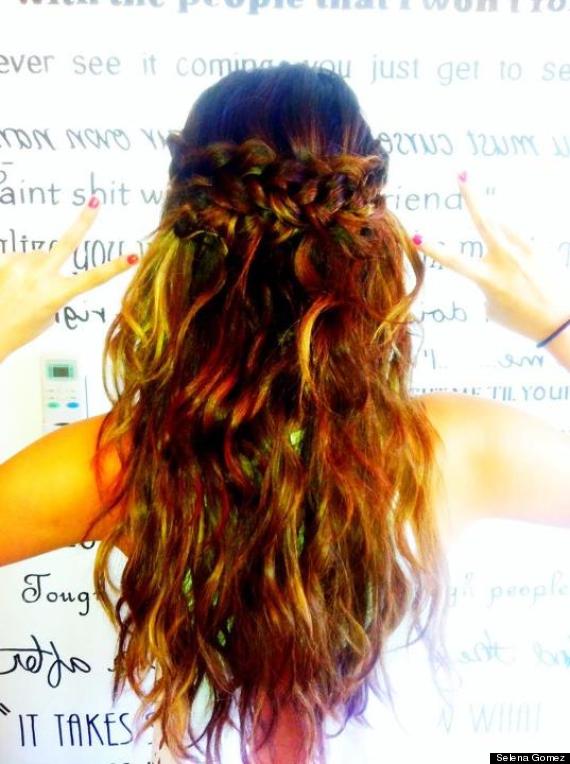 Do you like Selena with bangs? Or do you prefer her old look? Dish in the comments! Also on HuffPost:
Loading Slideshow
Morena Baccarin, 32

The stunning Brazilian actress is one of the stars of Showtime's Golden Globe-winning series, "Homeland." Can you think of another actress who looks this beautiful with short hair? We can't!

Paul Rodriguez Jr., 27

Mexican American pro-skateboarder Paul Rodriguez Jr., is one of the hottest athletes on the planet!

Sofia Vergara, 39

It's REALLY hard to believe Sofia Vergara has a 20-year-old son!

Esperanza Spalding, 27

The part-Latina singer is the perfect combination of class and beauty.

Cameron Diaz, 39

<em>There's Something About </em>this effervescent Cuban actress!

William Levy, 31

The picture says it all: William Levy is hot, hot, hot! No wonder they call him "the Cuban Brad Pitt!"

Selena Gomez, 19

Justin Bieber has great taste!

Stacey Dash, 46

When people see Stacey Dash, they always ask the same question: "She's 46?!" The half-Mexican actress, who was recently seen as the star of VH1's hit show, "SIngle Ladies," hasn't aged at all since she starred opposite Alicia Silverstone in"Clueless" (1995).

Benjamin Bratt, 48

The half-Peruvian actor is best known for his charming role in the rom-com "Miss Congeniality," (2000), but he's currently making women swoon as Dr. Jake Reilly on ABC's hit series, "Private Practice."

Adam Rodriguez, 37

The sexy Puerto Rican actor, who is best known for his role as Agent Delko on CBS' "CSI Miami," is set to take his clothes off opposite Channing Tatum in the big-screen stripper movie, "Magic Mike," (in theaters on June 29th).

Arlenis Sosa, 22

The stunning Arlenis Sosa is proud to represent for the Afro-Latinas as a Victoria's Secret Model!

Jennifer Lopez, 41

Jennifer Lopez is the only Latina to ever be named People's "Most Beautiful."

Eddie Cibrian

We can't name any show he's been on, but we google Cuban actor Eddie Cibrian quite often. The hunky Cibrian is the Latino John Hamm!

Michael Trevino, 27

The Mexican actor makes young women swoon as the badass werewolf/vampire hybrid Tyler Lockwood on the CW's hit series, "The Vampire Diaries."

Kevin Alejandro, 36

Viva Mexico! Best known for his role as Jesus, Lafayette's (Nelsan Ellis) boyfriend on HBO's "True Blood," Kevin Alejandro is easy on the eyes.

Vida Guerra, 38

How stunning is this Cuban model?

Zoe Saldana, 33

Who doesn't love Zoe?

Madeleine Stowe, 53

She may be 53 years old, but half Costa Rican actress Madeleine Stowe is easily the most beautiful woman on ABC's "Revenge."

Odette Annable, 26

The Cuban beauty currently stars as Dr. Jessica Adams on FOX's hit series, "House."

Penelope Cruz, 37

On screen, Penelope Cruz has a sensuality that other actresses would kill for. Off-screen, the Spanish actress is a classic Hollywood beauty.

Ana de la Reguera, 35

The Mexican beauty might resemble Penelope Cruz, but she's also a unique beauty in her own right.

Diego Boneta, 21

He's best known for his roles on "Pretty Little Liars" and "90210," but this Mexican hottie is about to hit the big time as the star of the movie-musical "Rock of Ages," opposite Tom Cruise.

Freddie Prinze Jr., 36

It's been years since he's been a teen heartthrob, but half-Puerto Rican actor Freddie Prinze Jr. still makes us weak in the knees with that gorgeous smile. He's beautiful!

Berenice Bejo, 35

She didn't say a word during her Oscar nominated performance in the silent film, "The Artist," but everyone was talking about Berenice, the film's Argentinean beauty.

Shakira, 35

Those hips don't lie--but they do stun!

Eva Longoria, 37

What can we say about Eva? She's as good as it gets!

Cote de Pablo, 32

The Chilean beauty plays Israeli weapons expert Ziva David on TV's #1 drama, "NCIS."

Jessica Alba, 30

Bella! That is all.

Pitbull, 31

Mr. Worldwide is one bald, beautiful man!

Lauren Velez, 47

The Puerto Rican actress calls all the shots as Captain Maria Laguerta on Showtime's hit series, "Dexter."

Enrique Iglesias, 36

Enrique has been an A-list musician for years, but the Spanish singer's baby face and charm never get old!

David Archuleta, 21

The half-Honduran singer is beautiful inside and out!

Daddy Yankee, 35

The Puerto Rican singer is looking better than ever after<a href="http://www.latina.com/entertainment/music/exclusive-behind-scenes-look-daddy-yankees-music-and-muscles" target="_hplink"> losing 30 pounds and bulking up </a>for his next movie role!

Gabe Saporta, 32

We like to think of this lanky Uruguayan hottie as the "Latino Adam Levine!"

Victoria Justice, 19

The half-Puerto Rican star of Nickelodeon's hit series "Victorious" looks like a younger Katharine McPhee. Translation? She's really beautiful!

Bruno Mars, 26

Who doesn't love a bad boy, especially when he's as talented as half-Puerto Rican singer Bruno Mars? <em>CORRECTION: A previous version of this slide incorrectly identified Bruno Mars as an actor.</em>

Rodrigo Santoro, 36

The Brazilian actor made an impression on women across America when he played Laura Linney's love interest in the rom-com, "Love Actually" (2003).

Rosario Dawson, 32

Whether she's playing provocative characters ("Sin City") or doing understated work in an indie flick ("Shattered Glass"), the half-Puerto Rican, half Afro-Cuban Rosario always looks beautiful!

Eva Mendes, 38

When people use the words "Cuban bombshell," they're talking about Eva Mendes!

America Ferrera, 28

The Honduran actress recently got her smile insured. We can see why--it's beautiful!

La La Anthony, 32

The half-Puerto Rican La La Anthony has the most gorgeous pair of eyes in Hollywood!

Demi Lovato, 19

By sharing the heartbreaking details of her battle with depression, cutting and an eating disorder, part-Mexican singer Demi Lovato showed the world that she's not only beautiful on the outside, but on the inside as well.

Roselyn Sanchez, 39

Roselyn Sanchez was beautiful in "Rush Hour 2." Roselyn Sanchez was beautiful in "Without A Trace." Heck, Roselyn Sanchez is beautiful in everything!

Ricky Martin, 40

He brings new meaning to the term, "Broadway Babe."

Salma Hayek, 45

Doesn't get much sexier than this!

Ana Ortiz, 41

The "Ugly Betty" star's smile is infectious on-screen and off!

Mario Lopez, 38

Dimples + muscles=beautiful!

Josie Loren, 25

The "Make It Or Break It" star has girl-next-door looks and a bubbly personality to match!

Danny Pino, 38

The 38-year-old actor, who stars on "Law & Order: SVU," isn't just ruggedly handsome. He's also one of the nicest guys in Hollywood!

Dominik Garcia-Lorido, 28

Dominik Garcia-Lorido, one of the stars of the new series "Magic City," is Andy Garcia's daughter. Good looks run in the family!