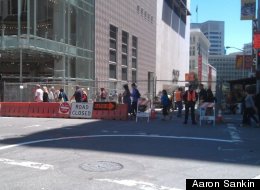 Even in the best of times, driving around Union Square is, to put it politely, painstaking awful.
Jaywalking tourists, double-parked taxis, slow moving Muni buses and bike messengers who don't seem all that concerned about your desire to change lanes make the beating heart of San Francisco's bustling downtown core someplace you probably shouldn't be driving through unless it's an absolute necessity.
Well, guess what? Driving in Union Square just got even worse. And it's not going to get back to simply being awful any time soon.
(SCROLL DOWN FOR PHOTOS)
On Monday morning, San Francisco Municipal Transportation Agency construction crews shut down a busy two-block stretch of Stockton Street between Ellis and Geary to prep for the installation of the Central Subway--the controversial and expensive extension of Muni's T-Third line from SoMa all the way through to Chinatown.
To compensate for the closure of Stockton, the city is re-striping a nearby section of Grant Street to accommodate two-way traffic.
In addition to the street closures, SFMTA will soon be cutting off access to the Ellis Street entrance of the Powell Muni/BART station.
"We're living through this," Union Square Business Improvement District Executive Director Karin Flood told the San Francisco Examiner. "We view this as short-term pain for long-term gain."
While automobiles are banned from the two-block span that houses tourist-friendly shopping destinations like the Apple store, Barneys and the Ferrari Store (this one doesn't sell cars, just clothes), the sidewalks will remain open for pedestrians to flow through freely.
Traffic on the block of Stockton between Geary and Post, which directly borders the iconic local landmark, has been restricted for months; however, it hasn't experienced the same long-term full-scale closure as the two blocks that shut down Monday morning.
SFMTA spokesman Pal Rose told KTVU that the agency expects the roadway to reopen in sometime in 2017. It will also open for traffic during the annual construction moratorium between Thanksgiving and New Year's Day.
The Central Subway is expected to open for business in 2019 (assuming it gets funded). SFMTA is banking on receiving $850 million from the federal government to pay the project and, since the subway had the tacit support of the Obama administration, most assumed this payment was a done deal.
At least until Congressman Tom McClintock (R-Truckee), who called the project a costly boondoggle, inserted an amendment into an appropriations bill prohibiting any additional funding from going to the Central Subway project.
Rose told SF Weekly the move was as "a political attack on San Francisco that has nothing to do with the merits of the project," and SFMTA officials are expecting McClintock's amendment will likely be stricken from the senate version of the bill.
Check out these photos of what the closure looks like: