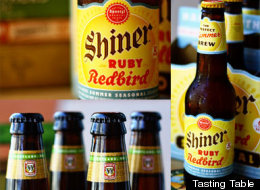 This article comes to us courtesy of Tasting Table Miami.
Each month, HuffPost Miami joins our friends at Tasting Table to highlight our five favorite finds from Miami's exciting culinary scene. After eating around the area, here's what caught Tasting Table Miami editor Trina Sargalski's eye in July:
Reunited With Lambrusco
There's been a lot of chatter about Macchialina Taverna Rustica, the newest Pubbelly restaurant. But there's something on the menu you might not have heard about. Let's just say it's fizzy and delicious.
Garden of Eden
You could dine at The Bazaar by José Andrés several times and enjoy an entirely different meal each night, thanks to the splashy restaurant's expansive menu. Our favorite possibility: a superb dinner revolving around Miami's Eden-like tropical fruit.

Grapefruit and Beer Hook Up
Miami is all about craft beer right now, and these days, the city has gone mad for grapefruit-kissed beer. Here are three summer beers you can get in town, made from grapefruit wood, juice and peel.