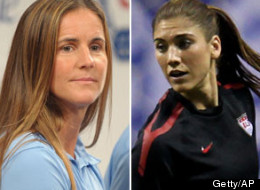 Former US soccer star and current NBC analyst, Brandi Chastain, decided to keep things classy when she responded to Hope Solo's recent Twitter rant about her abilities as a commentator.
In response to Solo's tirade, Chastain told Us Weekly:
"My only comment is I am in London to cover women's soccer for NBC in an honest and objective fashion, and that is what I have done, and will continue to do for the rest of the tournament."
On July 28, Solo, the goalkeeper of the United States women's soccer team, unleashed her fury through a series of tweets directed at Chastain, because of comments the former athlete made on TV.
"As a defender, your responsibilities are to defend . . . win the ball, and then keep possession," Chastain said on NBC. "And that's something that [defender] Rachel Buehler actually needs to improve on in this tournament."
Chastain's comments didn't sit well with Solo, 31, who turned to Twitter to gripe about Chastain.
"Lay off commentating about defending and gking until you get more educated @brandichastain the game has changed from a decade ago. #fb,"
she wrote
,
adding
:
Its 2 bad we cant have commentators who better represents the team&knows more about the game @brandichastain! #fb

— Hope Solo (@hopesolo) July 28, 2012
A short time later, Solo continued her tirade against the 44-year-old former soccer star:
I feel bad 4 our fans that have 2 push mute, especially bc @arlowhite is fantastic.@brandichastainshould be helping 2 grow the sport #fb

— Hope Solo (@hopesolo) July 28, 2012
Chastain is no stranger to criticism and is perhaps best remembered for ripping off her jersey in celebration after she scored the fifth kick in the penalty shootout to win the 1999 Women's World Cup.
Check out the gallery below to see some of the best photos from day three of the London Summer Games.
PHOTOS: Olympics Day 3 07/30/12
Australia's Kieran Govers, left, falls to the ground as he battles for ball possession with South Africa's Andrew Cronje during a men's field hockey preliminary match at the 2012 Summer Olympics, Monday, July 30, 2012, in London. (AP Photo/Bullit Marquez)

United States' Missy Franklin starts in a women's 100-meter backstroke swimming heat at the Aquatics Centre in the Olympic Park during the 2012 Summer Olympics in London, Sunday, July 29, 2012. (AP Photo/Mark J. Terrill)

Lee Eun-bi of South Korea, left, takes a shot at goal as Marianne Bonde Petersen, right, of Denmark watches during their women's handball preliminary match at the 2012 Summer Olympics, Monday, July 30, 2012, in London. (AP Photo/Vadim Ghirda)

USA's Courtney Hurley faces France's Laura Flessel-Colovic during a women's individual epee fencing round of 32 match at the 2012 Summer Olympics, Monday, July 30, 2012, in London. (AP Photo/Dmitry Lovetsky)

South Korea's Kim Hee-jin (19) spikes the ball by Serbia's Brankica Mihajlovic (7) during a women's volleyball preliminary match at the 2012 Summer Olympics Monday, July 30, 2012, in London. (AP Photo/Chris O'Meara)

Jenly Tegu Wini of the Solomon Islands competes during the women's 58-kg weightlifting competition at the 2012 Summer Olympics, Monday, July 30, 2012, in London. (AP Photo/Mike Groll)

Marti Malloy of the United States, right, and Corina Caprioriu of Romania during the women's 57-kg judo competition at the 2012 Summer Olympics, Monday, July 30, 2012, in London. (AP Photo/Paul Sancya)

The Russian men's cycling team trains for the 2012 Summer Olympics, Monday, July 30, 2012, in London. (AP Photo/Sergey Ponomarev)

Toshiyuki Tanaka, of Japan, rides her horse Marquis De Plescop as she competes in the equestrian eventing cross-country stage at the 2012 Summer Olympics, Monday, July 30, 2012, in London. (AP Photo/Charlie Riedel)

North Korea's Pak Jong Chol, right, competes with Brazil's Juliao Henriques Neto during a flyweight 52-kg preliminary boxing match at the 2012 Summer Olympics, Monday, July 30, 2012, in London. (AP Photo/Patrick Semansky)

Netherlands' Peter Hellenbrand prepares to shoot during the final for the men's 10-meter air rifle at the 2012 Summer Olympics, Monday, July 30, 2012, in London. (AP Photo/Rebecca Blackwell)

Australia's Suzy Batkovic (8) is pressured by France's Elodie Godin, left, and Endene Miyem, right, during the first half of a preliminary women's basketball game at the 2012 Summer Olympics, Monday, July 30, 2012, in London. (AP Photo/Eric Gay)

Rasul Boqiev of Tajikistan, left, and Ugo Legrand of France, compete during the men's 73-kg judo competition at the 2012 Summer Olympics, Monday, July 30, 2012, in London. (AP Photo/Paul Sancya)

Nicholas Delpopolo of the United States, left, and Nyam Ochir Sainjargal of Mongolia compete during the men's 73-kg judo competition at the 2012 Summer Olympics, Monday, July 30, 2012, in London. (AP Photo/Paul Sancya)

Ma Huanhuan of China, left, attempts to block a shot by Anna Espar Llaquet of Spain during their women's water polo preliminary round match at the 2012 Summer Olympics, Monday, July 30, 2012, in London. (AP Photo/Alastair Grant)

Seiya Kishikawa competes against Panagiotis Gionis of Greece of Japan during their men's table tennis match at the 2012 Summer Olympics, Monday, July 30, 2012, in London. (AP Photo/Sergei Grits

David Schroeder, front, and Frank Henze of Germany compete in the heats of the C-2 men's canoe double slalom at Lee Valley Whitewater Center, at the 2012 Summer Olympics, Monday, July 30, 2012, in London. (AP Photo/Kirsty Wigglesworth)

Australia's Jamie Dwayer, center, celebrates his goal against South Africa with his teammates during their men's hockey preliminary round match at the 2012 Summer Olympics, Monday, July 30, 2012, in London. (AP Photo/Eranga Jayawardena)

Taiwan's Cheng Shao-chieh plays against Austria's Simone Prutsch during a women's singles badminton match at the 2012 Summer Olympics, Monday, July 30, 2012, in London. (AP Photo/Andres Leighton)

Teams members of South Korea, right, and Denmark, left, greet each other before their women's handball preliminary match at the 2012 Summer Olympics, Monday, July 30, 2012, in London. (AP Photo/Vadim Ghirda)

Nadine Zumkehr of Switzerland digs out a ball during a beach volleyball match against China at the 2012 Summer Olympics, Monday, July 30, 2012, in London. (AP Photo/Dave Martin)

Dirk van Tichelt of Belgium reacts after losing to Nicholas Delpopolo of the United States in the men's 73-kg judo competition at the 2012 Summer Olympics, Monday, July 30, 2012, in London. (AP Photo/Paul Sancya)

Boyd Martin, of the United States, and his horse Otis Barbotiere competes in the equestrian eventing cross-country stage at the 2012 Summer Olympics, Monday, July 30, 2012, in London. (AP Photo/Jae C. Hong)

Great Britain's, from right, Phelan Hill, Constantine Louloudis, Matthew Langridge, Greg Searle, Mohamed Sbihi, Richard Egington, Tom Ransley, James Ford, and Alex Partridge wait for the start of a men's rowing eight repechage in Eton Dorney, near Windsor, England, at the 2012 Summer Olympics, Monday, July 30, 2012. (AP Photo/Chris Carlson)

North Korea's An Kum Ae holds her gold medal in the women's 52-kg judo competition at the 2012 Summer Olympics, Sunday, July 29, 2012, in London. (AP Photo/Paul Sancya)

Martins Reader of Canada reacts during a beach volleyball match against Norway at the 2012 Summer Olympics, Monday, July 30, 2012, in London. (AP Photo/Dave Martin)

Turkey's Kuanitra Holingsvorth, center, grabs a rebound between Czech Repubic's Lisa Ann Karcic, left, and Ilona Burgrova during a women's basketball game at the 2012 Summer Olympics, Monday, July 30, 2012, in London. (AP Photo/Charles Krupa)

Coaches and others ride bicycles next to boats competing in the rowing competition in Eton Dorney, near Windsor, England, at the 2012 Summer Olympics, Monday, July 30, 2012. (AP Photo/Natacha Pisarenko)

United States' Ariana Kukors competes in a women's 200-meter individual medley swimming heat at the Aquatics Centre in the Olympic Park during the 2012 Summer Olympics in London, Monday, July 30, 2012. (AP Photo/Daniel Ochoa De Olza)

China's Tian Qing, right, and Zhao Yunlei play against Japan's Miyuki Maeda and Satoko Suetsuna, unseen, at a women's doubles badminton match of the 2012 Summer Olympics, Monday, July 30, 2012, in London. (AP Photo/Saurabh Das)

Paul Drinkhall of Great Britain takes moment between plays against Dimitrij Ovtcharov of Germany during their men's table tennis match at the 2012 Summer Olympics, Monday, July 30, 2012, in London. (AP Photo/Sergei Grits

Dimitrij Ovtcharov of Germany serves against Paul Drinkhall of Great Britain during their men's table tennis match at the 2012 Summer Olympics, Monday, July 30, 2012, in London. (AP Photo/Sergei Grits)

Japan's Miyuki Maeda, above right, and Satoko Suetsuna, above left, play against Zhao Yunlei, below left, and Tian Qing, of China, during a women's doubles badminton match at the 2012 Summer Olympics, Monday, July 30, 2012, in London. (AP Photo/Andres Leighton)

Spain's Beatriz Gomez Cortes prepares to compete in a women's 200-meter individual medley swimming heat at the Aquatics Centre in the Olympic Park during the 2012 Summer Olympics in London, Monday, July 30, 2012. (AP Photo/Lee Jin-man)

LONDON, ENGLAND - JULY 30: Corinna Kuhnle of Austraia competes during the Womens Kayak Single (K1) Slalom heats on Day 3 of the London 2012 Olympic Games at Lee Valley White Water Centre on July 30, 2012 in London, England. (Photo by Phil Walter/Getty Images)

LONDON, ENGLAND - JULY 30: Rattikan Gulnoi of Thailand competes in the Women's 58kg Weightlifting on Day 3 of the London 2012 Olympic Games at ExCeL on July 30, 2012 in London, England. (Photo by Laurence Griffiths/Getty Images)

LONDON, ENGLAND - JULY 30: Yuan Cao and Yanquan Zhang of China compete in the Men's Synchronised 10m Platform Diving on Day 3 of the London 2012 Olympic Games at the Aquatics Centre on July 30, 2012 in London, England. (Photo by Clive Rose/Getty Images)

United States' Marti Malloy (blue) competes with Italy's Giulia Quintavalle during their women's -57kg judo contest bronze medal match of the London 2012 Olympic Games on July 30, 2012 ExCel arena in London. (Photo credit FRANCK FIFE/AFP/GettyImages)

LONDON, ENGLAND - JULY 30: Tom Daley and Peter Waterfield of Great Britain compete in the Men's Synchronised 10m Platform Diving on Day 3 of the London 2012 Olympic Games at the Aquatics Centre on July 30, 2012 in London, England. (Photo by Clive Rose/Getty Images)

Switzerland's Roger Federer serves to France's Julien Benneteau during their men's single tennis match second round during the London 2012 Olympic Games in London on July 30, 2012. (Photo credit LUIS ACOSTA/AFP/GettyImages)

France's Automne Pavia celebrates with her coach after winning against Hungary's Hedvig Karakas during their women's -57kg judo contest bronze medal match of the London 2012 Olympic Games on July 30, 2012 ExCel arena in London. (Photo credit FRANCK FIFE/AFP/GettyImages)

Russia's goalkeeper Anna Sedoykina tries to make a save during the women's preliminaries Group A handball match Great Britain vs Russia for the London 2012 Olympics Games on July 30, 2012 at the Copper Box hall in London. (Photo credit JAVIER SORIANO/AFP/GettyImages)

Freedom Chiya of the Republic of South Africa sets the ball during a beach volleyball match against Latvia at the 2012 Summer Olympics, Monday, July 30, 2012, in London. (AP Photo/Dave Martin)

Taiwan's Wang Cheng-pang squares off against South Korea's Im Dung-hyun during an elimination round of the individual archery competition at the 2012 Summer Olympics, Monday, July 30, 2012, in London. (AP Photo/Marcio Jose Sanchez)

Romania's Alin George Moldoveanu waves from the podium after receiving the gold medal in men's 10-meter air rifle at the 2012 Summer Olympics, Monday, July 30, 2012, in London. (AP Photo/Rebecca Blackwell)

Manuel Minginfel off Micronesia competes during the mens 62-kg weightlifting competition at the 2012 Summer Olympics, Monday, July 30, 2012, in London. (AP Photo/Mike Groll)

Martins Reader of Canada returns service during a beach volleyball match against Norway at the 2012 Summer Olympics, Monday, July 30, 2012, in London. (AP Photo/Dave Martin)

Britain's Corinna Lawrence participates in a women's individual epee fencing round of 64 against Chile's Caterin Bravo Aranguiz at the 2012 Summer Olympics, Monday, July 30, 2012, in London. (AP Photo/Andrew Medichini)

LONDON, ENGLAND - JULY 30: Yuegu Wang of Singapore eyes the ball during her Women's Singles Table Tennis fourth round match against Viktoria Pavlovich of Belarus on Day 3 of the London 2012 Olympic Games at ExCeL on July 30, 2012 in London, England. (Photo by Feng Li/Getty Images)

Japan's gold medalist Kaori Matsumoto (L) and Romania's silver medalist Corina Caprioriu pose on the podium of the women's -57kg judo contest of the London 2012 Olympic Games on July 30, 2012 ExCel arena in London. AFP PHOTO / FRANCK FIFE (Photo credit should read FRANCK FIFE/AFP/GettyImages)

LONDON, ENGLAND - JULY 30: John Orozco of the United States gives Samuel Mikulak of the United States a five after Orozco competes on the pommel horse in the Artistic Gymnastics Men's Team final on Day 3 of the London 2012 Olympic Games at North Greenwich Arena on July 30, 2012 in London, England. (Photo by Michael Steele/Getty Images)

Egyptian shooter Azmy Mehelba competes in the men's skeet qualification at The Royal Artillery Barracks in London on July 30, 2012, for The London 2012 Olympic Games. AFP PHOTO/MARWAN NAAMANI (Photo credit should read MARWAN NAAMANI/AFP/GettyImages)

Germany's Patrick Hausding and Sascha Klein compete in the men's synchronised 10m platform final diving event at the London 2012 Olympic Games at the Olympic Park in London on July 30, 2012. AFP PHOTO / LEON NEAL (Photo credit should read LEON NEAL/AFP/GettyImages)

LONDON, ENGLAND - JULY 30: Brazil players celebrate a goal during Women's Volleyball on Day 3 of the London 2012 Olympic Games at Earls Court on July 30, 2012 in London, England. (Photo by Elsa/Getty Images)

Mexico's German Sanchez Sanchez and Ivan Garcia Navarro compete in the men's synchronised 10m platform final diving event at the London 2012 Olympic Games at the Olympic Park in London on July 30, 2012. Mexico won silver. AFP PHOTO / CHRISTOPHE SIMON (Photo credit should read CHRISTOPHE SIMON/AFP/GettyImages)

France's Isabelle Yacoubou (R) shoots over Australia's Lauren Jackson during their women's preliminary round group B basketball match at the Basketball Arena during the London 2012 Olympic Games July 30, 2012. (Photo credit should read SERGIO PEREZ/AFP/GettyImages)

LONDON, ENGLAND - JULY 30: Chen Yibing of China competes on the rings in the Artistic Gymnastics Men's Team final on Day 3 of the London 2012 Olympic Games at North Greenwich Arena on July 30, 2012 in London, England. (Photo by Ronald Martinez/Getty Images)

Mexico's German Sanchez Sanchez and Ivan Garcia Navarro compete in the men's synchronised 10m platform final diving event at the London 2012 Olympic Games at the Olympic Park in London on July 30, 2012. Mexico won silver. AFP PHOTO / CHRISTOPHE SIMON (Photo credit should read CHRISTOPHE SIMON/AFP/GettyImages)

LONDON, ENGLAND - JULY 30: Corina Caprioriu of Romania celebrates her win over Marti Malloy of the United States in the Women's -57 kg Judo on Day 3 of the London 2012 Olympic Games at ExCeL on July 30, 2012 in London, England. (Photo by Julian Finney/Getty Images)

LONDON, ENGLAND - JULY 30: Elena Baltacha of Great Britain plays a backhand during the Women's Singles Tennis match against Ana Ivanovic of Serbia on Day 3 of the London 2012 Olympic Games at the All England Lawn Tennis and Croquet Club in Wimbledon on July 30, 2012 in London, England. (Photo by Jamie Squire/Getty Images)

Ukraine's gymnast Igor Radivilov competes on the vault during the men's team final of the artistic gymnastics event of the London Olympic Games on July 30, 2012 at the 02 North Greenwich Arena in London. (Photo credit EMMANUEL DUNAND/AFP/GettyImages)

LONDON, ENGLAND - JULY 30: Allison Pineau of France scores a last minute equaliser during the Women's Handball Preliminaries Group B - Match 10 between France and Spain on Day 3 of the London 2012 Olympic Games at the Copper Box on July 30, 2012 in London, England. (Photo by Richard Heathcote/Getty Images)

France's Emmanuel Dyen and Stephane Christidis (R) head to victory in race one in the 49er sailing class at the London 2012 Olympic Games, in Weymouth on July 30, 2012. AFP PHOTO/William WEST (Photo credit should read WILLIAM WEST/AFP/GettyImages)

Spain's centreback Macarena Aguilar Diaz (L) vies with France's pivot Nina Kamto Njitam during the women's preliminaries Group B handball match France vs Spain for the London 2012 Olympics Games on July 30, 2012 at the Copper Box hall in London. (Photo credit JAVIER SORIANO/AFP/GettyImages)

WEYMOUTH, ENGLAND - JULY 30: Dan Slater of New Zealand competes in the Men's Finn Sailing on Day 3 of the London 2012 Olympic Games at Weymouth Harbour on July 30, 2012 in Weymouth, England. (Photo by Clive Mason/Getty Images)

LONDON, ENGLAND - JULY 30: Prince William, Duke of Cambridge speaks on a phone whilst Catherine, Duchess of Cambridge watches the Eventing Cross Country Equestrian event on Day 3 of the London 2012 Olympic Games at Greenwich Park on July 30, 2012 in London, England. (Photo by Pascal Le Segretain/Getty Images)

LONDON, ENGLAND - JULY 30: A general view of the Beach Volleyball Center Court during Day 3 of the London 2012 Olympic Games at Horse Guards Parade on July 30, 2012 in London, England. (Photo by Ryan Pierse/Getty Images)

LONDON, ENGLAND - JULY 30: Jeyvier Cintron Ocasio of Puerto Rico (R) in action with Oteng Oteng of Botswana during their Men's Fly (52kg) Boxing on Day 3 of the London 2012 Olympic Games at ExCeL on July 30, 2012 in London, England. (Photo by Scott Heavey/Getty Images)

LONDON, ENGLAND - JULY 30: Daniel Purvis of Great Britain competes on the pommel horse in the Artistic Gymnastics Men's Team final on Day 3 of the London 2012 Olympic Games at North Greenwich Arena on July 30, 2012 in London, England. (Photo by Michael Steele/Getty Images)

LONDON, ENGLAND - JULY 30: Tania Di Mario of Italy looks for a pass during the Women's Water Polo Preliminary match between Italy and Australia on Day 3 of the London 2012 Olympic Games at Water Polo Arena on July 30, 2012 in London, England. (Photo by Stu Forster/Getty Images)

LONDON, ENGLAND - JULY 30: Louis Smith of Great Britain competes on the pommel horse in the Artistic Gymnastics Men's Team final on Day 3 of the London 2012 Olympic Games at North Greenwich Arena on July 30, 2012 in London, England. (Photo by Michael Steele/Getty Images)

LONDON, ENGLAND - JULY 30: Sandrine Gruda #7 of France reacts after scoring against Australia during the Women's Basketball Preliminary Round match on Day 3 at Basketball Arena on July 30, 2012 in London, England. (Photo by Christian Petersen/Getty Images)

LONDON, ENGLAND - JULY 30: Tugstsogt Nyambayar of Mongolia celebrates his victory over Elvin Mamishzada of Azerbaijan during their Men's Fly (52kg) Boxing on Day 3 of the London 2012 Olympic Games at ExCeL on July 30, 2012 in London, England. (Photo by Scott Heavey/Getty Images

LONDON, ENGLAND - JULY 30: Australia head coach Carrie Graf yells out instructions during the Women's Basketball Preliminary Round match between Australia and France on day 3 of the London 2012 Olympic Games at Basketball Arena on July 30, 2012 in London, England. (Photo by Cameron Spencer/Getty Images)

United States' Evelyn Stevens, right, leads the way during the women's cycling road race at the 2012 Summer Olympics on Sunday, July 29, 2012, in London. (AP Photo/Stefano Rellandini, Pool)

Emmanuel Dyen and Stephane Christidis of France sail on 49er Men's Skiff class during the race 1 at the London 2012 Summer Olympics, Monday, July 30, 2012, in Weymouth and Portland, England. (AP Photo/Francois Mori)

Vasiliki Arvaniti, right, from Greece celebrates with her teammate Maria Tsiartsiani, left, after defeating russia in their Beach Volleyball match at the 2012 Summer Olympics, Monday, July 30, 2012, in London. (AP Photo/Petr David Josek)

Laser fleet compete during the race 2 of the laser dinghy class at the London 2012 Summer Olympics, Monday, July 30, 2012, in Weymouth and Portland, England. (AP Photo/Bernat Armangue)

Gymnast Cyril Tommasone from France performs on the parallel bars during the Artistic Gymnastic men's team final at the 2012 Summer Olympics, Monday, July 30, 2012, in London. (AP Photo/Matt Dunham)

Japanese gymnast Kohei Uchimura performs on the vault during the Artistic Gymnastic men's team final at the 2012 Summer Olympics, Monday, July 30, 2012, in London. (AP Photo/Gregory Bull)

Poland's Michal Logosz lies on the court after injuring himself while playing with teammate Adam Cwalina against Maneepong Jongjit and Bodin Isara, of Thailand, in a men's doubles badminton match at the 2012 Summer Olympics, Monday, July 30, 2012, in London. (AP Photo/Andres Leighton)

Rattikan Gulnoi of Thailand fails to make a lift while competing during the women's 58-kg weightlifting competition at the 2012 Summer Olympics, Monday, July 30, 2012, in London. (AP Photo/Ben Curtis)

Mansur Isaev, of Russia, top, and Riki Nakaya, of Japan, compete in the gold medal match during the men's 73-kg judo competition at the 2012 Summer Olympics, Monday, July 30, 2012, in London. Isaev won. (AP Photo/Paul Sancya)

The Netherlands' Marcel Balkestein and India's Ignace Tirkey vie for the ball during their men's hockey preliminary round match at the 2012 Summer Olympics, Monday, July 30, 2012, in London. (AP Photo/Eranga Jayawardena)

LONDON, ENGLAND - JULY 30: (L-R) Nicholas McCrory and David Boudia of the United States look on from the pool deck as they compete in the Men's Synchronised 10m Platform Diving on Day 3 of the London 2012 Olympic Games at the Aquatics Centre on July 30, 2012 in London, England. (Photo by Adam Pretty/Getty Images)

LONDON, ENGLAND - JULY 30: Maria Garcia Godoy of Spain celebrates as she scores a goal during the Women's Water Polo Preliminary match between Spain and China on Day 3 of the London 2012 Olympic Games at Water Polo Arena on July 30, 2012 in London, England. (Photo by Stu Forster/Getty Images)

LONDON, ENGLAND - JULY 30: Tom Daley (L) and Peter Waterfield of Great Britain compete in the Men's Synchronised 10m Platform Diving on Day 3 of the London 2012 Olympic Games at the Aquatics Centre on July 30, 2012 in London, England. (Photo by Adam Pretty/Getty Images)

LONDON, ENGLAND - JULY 30: British Prime Minister David Cameron and French President Francois Hollande watch the Women's Handball Preliminaries Group B - Match 10 between France and Spain on Day 3 of the London 2012 Olympic Games at the Copper Box on July 30, 2012 in London, England. (Photo by Jeff Gross/Getty Images)

LONDON, ENGLAND - JULY 30: Lauren Jackson #15 of Australia shoot a free throw shot against France during the Women's Basketball Preliminary Round match on Day 3 at Basketball Arena on July 30, 2012 in London, England. (Photo by Christian Petersen/Getty Images)

LONDON, ENGLAND - JULY 30: Roderick Weusthof of the Netherlands celebrates after scoring his gol against India during the Men's Hockey Match on Day 3 of the London 2012 Olympic Games at the Riverbank Arena on July 30, 2012 in London, England. (Photo by Daniel Berehulak/Getty Images)

Hong Kong's Yip Pui Yin celebrates after defeating Sung Ji Hyun of South Korea during their women's singles badminton match at the London 2012 Olympic Games in London on July 30, 2012. Yip won 21-18, 23-21. (Photo credit ADEK BERRY/AFP/GettyImages)

Elisa Casanova of Italy splashes as she reacts after scoring a goal against Australia during a preliminary women's water polo match at the 2012 Summer Olympics, Monday, July 30, 2012, in London. Australia won 10-8. (AP Photo/Julio Cortez)

Marcio Carvalho Jorge of Brazil rides Josephine as he competes in the equestrian eventing cross-country stage at the 2012 Summer Olympics, Monday, July 30, 2012, in London. (AP Photo/Ng Han Guan)

Morocco's Ahmed Barki, right, rests in his corner during a light heavyweight 81-kg preliminary boxing match against China's Meng Fanlong at the 2012 Summer Olympics, Monday, July 30, 2012, in London. (AP Photo/Patrick Semansky)

U.S. gymnast Jacob Dalton performs on the floor during the Artistic Gymnastic men's team final at the 2012 Summer Olympics, Monday, July 30, 2012, in London. (AP Photo/Gregory Bull)

U.S. gymnast Danell Leyva performs on the floor during the Artistic Gymnastic men's team final at the 2012 Summer Olympics, Monday, July 30, 2012, in London. (AP Photo/Gregory Bull)

Britain's David Florence, front, and Richard Hounslow compete in the men's C-2 canoe double slalom heats at the Lee Valley White Water Center at the 2012 Summer Olympics, Monday, July 30, 2012, in London. (AP Photo/Victor R. Caivano)

Britain's Catherine, Duchess of Cambridge, and Britain's Prince William, the Duke of Cambridge read a program as they watch the equestrian eventing cross country phase at the 2012 Summer Olympics, Monday, July 30, 2012, in London. (AP Photo/David Goldman)

LONDON, ENGLAND - JULY 30: Romela Begaj of Albania competes in the Women's 58kg Weightlifting on Day 3 of the London 2012 Olympic Games at ExCeL on July 30, 2012 in London, England. (Photo by Ian Walton/Getty Images)

LONDON, ENGLAND - JULY 30: Kai Zou of China celebrates after competing on the horizontal bar in the Artistic Gymnastics Men's Team final on Day 3 of the London 2012 Olympic Games at North Greenwich Arena on July 30, 2012 in London, England. (Photo by Streeter Lecka/Getty Images)

Ivan Garcia Navarro, left, and German Sanchez Sanchez celebrate after the Men's Synchronized 10 Meter Platform Diving final at the Aquatics Centre in the Olympic Park during the 2012 Summer Olympics in London, Monday, July 30, 2012. Mexico took the silver medal in the event. (AP Photo/Mark J. Terrill)