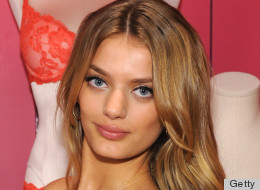 We may not know how to pronounce her name, but we are finally getting acquainted with Bregje Heinen's face... and her body, natch.
The Victoria's Secret model teamed up with Candice Swanepoel today at Victoria's Secret in New York City for a bra launch -- you know, the kind where VS models pose in front of a pink wall holding bras over their shoulders ever so seductively. Candice is a pro at such events, but this is the first we've seen of Bregje...
Or so we thought. Turns out the 19-year-old Dutch model has been on the Victoria's Secret scene longer than we knew, walking the 2011 Victoria's Secret Fashion Show and frolicking for the Fabulous Bra TV spot with Swanepoel and Behati Prinsloo (Adam Levine's main squeeze). She's also nabbed several Elle and Vogue covers (although none of the coveted U.S. editions).
But we're sure it's only the start for the Julia Stegner-meets-Lily Donaldson lookalike, who's a natural in the latest VS commercial. If she's auditioning to be the next Angel, she should take notes from Toni Garrn, the most recently crowned winged Angel on the Victoria's Secret roster.
Check out Bregje below -- how does she stack up against your favorite Victoria's Secret Angels?
Want more? Be sure to check out HuffPost Style on Twitter, Facebook, Tumblr and Pinterest.