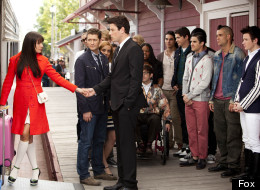 "Glee" co-creator Ryan Murphy took to his new Twitter account to drop Season 4 details -- and hopes -- for his followers.
The first group number of the season will be Adele's "Chasing Pavements," Murphy revealed.
Murphy has been tweeting photos from the sets of his hit shows "Glee" and "American Horror Story." When asked about finding a father for Blaine (Darren Criss), Murphy said he didn't have any plans in mind, but he'd love for Catherine Zeta-Jones to play Blaine's mother. On the topic of guest stars, Murphy said on Twitter that Gwyneth Paltrow can come back "anytime she wants."
Season 4 of "Glee" will include guest appearances by Kate Hudson and Sarah Jessica Parker and new cast members Dean Geyer and Jacob Artist.
Click through the slideshow below for more "Glee" tidbits, including details on a two-part Thanksgiving episode, "The Break-Up" and Heather Morris.