We know, we know, we love Hanksy a lot. But how could we not? His hilarious celebrity spoof street art pops up around New York with remarkable speed. Just a week after questioning George Clooney's sexuality Hanksy has given Drew Barrymore a glorious 'stache with the master of the moustache himself, Moustache Man.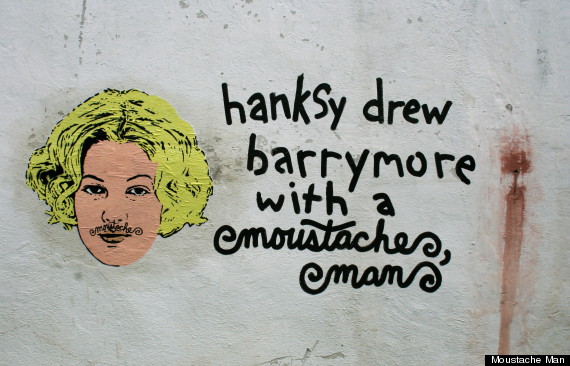 Moustache Man describes himself on Twitter as "the dude who wrote moustache all over the city from 2010-2011. [He] got arrested for it last year because that makes sense." He combatted the daily barrage of advertisements across the city by wielding his black marker and even gained some copycats along the way. The two art pranksters collaborated on Drew's new look, which makes us wonder if after her recent wedding she let herself go. We are hoping the Hollywood style icon will set a trend with this one; head to Prospect Heights in Brooklyn to see the look for yourself.
If you want to hear about the life of a renegade street artist, check out Moustache Man's one man show, "Moustache Man: Confessions of a NYC Graffiti Artist" at the Upright Citizens Brigade Theatre in Chelsea this August.