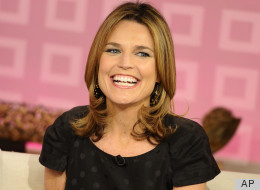 The New York Daily News stirred up trouble for trouble for "Today" on Tuesday, with a front page story alleging that Hoda Kotb was flown to London to bolster ratings for the show's Olympics coverage. NBC corrected the report, indicating that Kotb's role in the coverage has long been planned.
NBCUniversal paid $1.18 billion for exclusive rights to the Olympic Games broadcast in the U.S., and during the games, viewership generally surges 30 percent. Yet on Thursday, with the "Today" team reporting from London, ABC's "Good Morning America" was still able to win by nearly 400,000 viewers in the overnight ratings, recording one of its biggest wins all year, according to The New York Times.
The New York Daily News reported Tuesday that parachuting Hoda Kotb across the pond was a direct response to the ratings flop. The paper splashed the story on the front page.
"They're just shoehorning her into the show to help bring it alive," the source told the Daily News. "They called Hoda on Thursday begging her to go to London because they said it wasn't working like they thought."
The network called the report completely false on Tuesday, pointing to the fact that "Today" announced Kotb's role in the show's Olympics coverage three weeks ago. "She planned to spend a few days in London covering fun Olympic stories, and she talked about it on the show several times," an NBC spokesperson told The Huffington Post. "In fact, we started a well-publicized Facebook campaign on July 9 asking viewers for suggestions on what types of stories she should do at the Games."