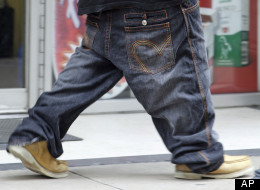 A man was kicked off of a Spirit Airlines plane at O'Hare International Airport in Chicago after getting into an altercation over his wardrobe with a flight attendant.
CBS Chicago reports that the man and a female companion were boarding a flight from O'Hare to Orlando, Fla., over the weekend when an attendant asked him to pull up his saggy pants.
According to a Spirit Airlines spokeswoman, the man became "verbally abusive" and threatened physical harm after he was told that his pants were "excessively low" as they were hanging below his buttocks. The airline requires passengers to wear "adequate" clothing in its code.
"It was to the point where his entire bottom was hanging out. And that's not appropriate," the Spirit Airlines spokeswoman told CBS.
The pair was escorted off the plane. They were booked on the airline's next Orlando-bound flight available.
Airline passengers being kicked off of planes for wearing so-called "saggy pants" is not too uncommon an occurrence. Last year, Green Day frontman Billie Joe Armstrong was asked to deplane from a Southwest Airlines flight from Oakland to Burbank, Calif. over his saggy pants. DeShon Marman, a University of New Mexico football player, was arrested at San Francisco Internatonal Airport after he refused an employee's request that he pull up his pants because his boxers were showing.
Marman was arrested on suspicion of trespassing, battery of a police officer and obstruction of a police investigation, allegations that prompted a protest led by a local chapter of the NAACP. Prosecutors ultimately dropped the charges.
Saggy pants have long been a point of contention in Chicago. Earlier this year, a group of City Council members called on Chicago Public Schools to mandate uniforms in an effort to stop students from wearing their pants slung low, below their waists. The resolution was titled "No Dragging and Sagging: Pull Up Your Pants."
Late last year, a group of community activists sought the institution of a fine for pedestrians caught wearing pants with waistbands sitting more than four inches below their hips. The American Civil Liberties Union has criticized such proposed laws as inviting racial profiling and violating free speech.