We may only be coming up on August, but Vanity Fair is already getting nostalgic about the year that was 2012.
The magazine has released its highly anticipated Best-Dressed List for 2012, headlining its September issue. The list, Vanity Fair's 73rd, honors the celebs, royals and other notables who wore the best threads on the red carpet (e.g. Alicia Keys, Fan Bingbing) and off (e.g. Bill Cunningham, Tom Brady) this year.
Except that, well, many of this year's best-dressed names were last year's best-dressed too -- namely Kate Middleton, who pulled a repeat as she is wont to do. The Duchess of Cambridge (or a stock photo of the Duchess of Cambridge -- so far, Kate doesn't pose for covers) landed herself one of the two coveted September covers, heralded as "Kate The Great."
Some might complain, given that this is Catherine's third time on the list and the cover photo isn't even from 2012 -- it's a snap from last summer's Royal Tour, with that lavender Alexander McQueen gown. But Vanity Fair makes the strong case for Kate in a special video and dishes all sorts of fun behind-the-scenes details about her life with Will. A snippet:
The duchess's schedule requires up to five clothing changes per day. The rigorous outfit swapping attendant to royal protocol is said to stress out the duchess—not that the stress shows.
They splash out for DVD box sets. Right now, the royal couple are obsessed with The Killing, which they recently devoured in a marathon session—and they often stay in to binge on various new series rather than hit up society events.
But really, enough about Kate. Who else made the list in 2012? Several HuffPost Style favorites, including Crown Princess Mary of Denmark, Princess Alexandra of Greece and Monaco "royal" Charlotte Casiraghi as well as Elettra Wiedemann, Diane Kruger, Poppy Delevigne, Léa Seydoux and more fashion types.
As for the men, two of our favorite dudes landed well-deserved spots: Prince Harry and Jay-Z.
Which other photographers, execs, athletes, actresses and socialites made Vanity Fair's Best-Dressed List for 2012? See our favorites names below and head to VanityFair.com to see the rest, plus the second September cover featuring Jessica Chastain.
Do you agree with the mag's picks?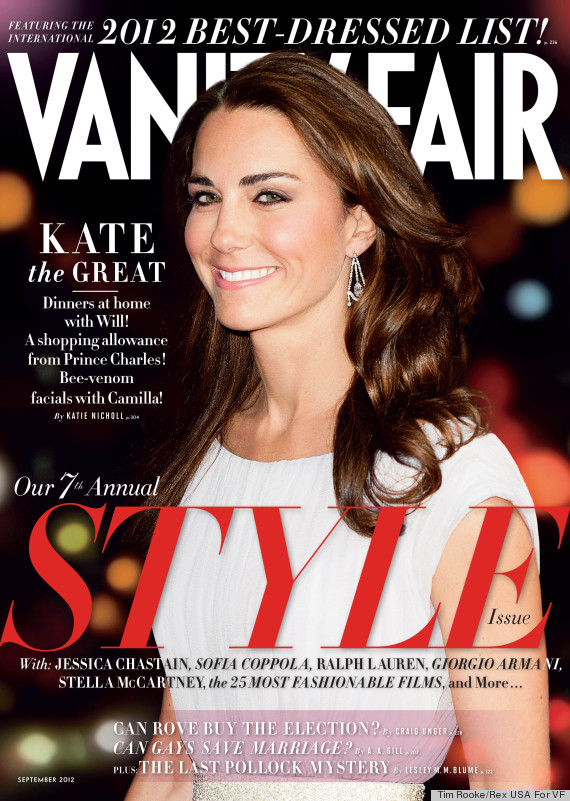 Vanity Fair's 73rd Annual International Best-Dressed List
Wife of the future King of England (Getty photo)

Actress (Getty photo)

Wife of H.H. the Emir of Qatar and UNESCO special envoy for basic and higher education (Getty photo)

Wife of Crown Prince Frederik of Denmark, future King of Denmark (Getty photo)

Actress (Getty photo)

Fourth in line to the throne of Monaco and Gucci model (Getty photo)

Fashion model, entrepreneur and aspiring triathlete (Getty photo)

Second in line to the British throne and helicopter pilot with the Royal Army Air Corps (Getty photo)

'Today' show co-anchor (Getty photo)

Actor (Getty photo)

Model, actress and British Fashion Council ambassador (Getty photo)

Fashion designer (Getty photo)

At the 2012 Oscars, the gorgeous gowns didn't end once the awards were handed out - some of our favorite dresses popped up at the party after. From Diane Kruger's peekabo Calvin Klein dress to Kate Bosworth's sheer Prabal Gurung, the gowns at the famous Vanity Fair afterparty truly stunned. Watch now to see who was our (postshow) best dressed!
Want more? Be sure to check out HuffPost Style on Twitter, Facebook, Tumblr and Pinterest.