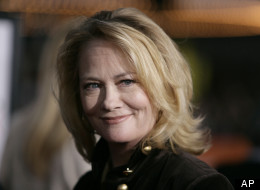 The playwright, commentator, gadfly (a word that's skyrocketed in use these past hours), and public intellectual, Gore Vidal, died Tuesday at the age of 86, due to complications of pneumonia. Broadway is dimming its lights in Vidal's memory, but probably nowhere in Manhattan's theater district will his presence be more felt than in the Gerald Schoenfeld Theater. That's where Cybill Shepherd, James Earle Jones, and many other people you've heard of are putting on a starry re-staging of Vidal's 1960 play about politics, "The Best Man." We asked a handful of the actors, actresses, directors and producers involved to share their sense of the man whose words they've briefly made their own. Click through for thoughts from Kristin Davis, Eric McCormack, James Earl Jones and Cybill Shepherd (both of whom knew Vidal personally), and more, below.
'Gore Vidal's The Best Man': Cast & Crew React
"I'm honored to have been able to call Gore a close friend. I'm privileged to currently be appearing in his play The Best Man and speaking his witty and eloquent words every night only reinforces for me what a genius he was."

"Gore was the ultimate insider with the soul of a rebellious outsider -- he used his insider access to reveal to the rest of us outsiders the low down truth about back room politics -- his wit, wisdom, and passion for American history was unmatched in the last century -- THE BEST MAN offers Gore at the peak of his audacious powers, with a delicious sprinkle of the populist entertainer he always fashioned himself to be..."

"Though I didn't know Gore Vidal personally, I had followed him as a writer and cultural commentator for a long time. He seemed to live life to its fullest, and never shied away from expressing his opinions, qualities I admire very much. Now I have the honor of performing his play The Best Man on Broadway. While the play is known for being about America's political landscape, it is truly about much more. It is filled with poetry about what it means to be human. And we will think of him and everything he contributed to life as we perform his play 8 shows a week."

"For all Gore's brilliant structure and wit, the surprise of "The Best Man" was how much heart we kept discovering, even a hundred performances in. Inside the intellectual was a real romantic."

"Gore Vidal was brilliantly talented. It was an honor to work with him and it is a privilege to say his words eight shows a week."

"Gore Vidal was an original. He wrote novels, essays, plays, teleplays and films with grace, distinction, style, wit and wisdom. Not to mention that he was a master raconteur, an accomplished actor, a brilliant gadfly and an impishly gifted impersonator. The company of "Gore Vidal's The Best Man" joins me in these sentiments. For his contribution to American culture, we will always be in his debt."