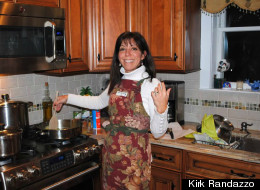 One of the reasons I started my website was so that women could have a place to come together and dream. We women need to know that we don't have to hang on to an old dream that has stopped nurturing us -- that there is always time to start a new dream. This week's story is about how one woman found a way to balance the demands of a career and family, simmering on her kitchen stove. -– Marlo, MarloThomas.com

By Lori Weiss
When Rochelle Randazzo took time off from work to have her first child, she thought it would be just a matter of months before she was back at her desk, managing advertising sales for The New York Post. But she and her husband Kirk quickly found out that the demands of two fast-paced careers often conflict with the demands of a newborn baby. They were faced with the decision many couples have to make: Who's going to stay home with the kids?
"I never in a million years imagined not having a job," Rochelle said, "but one of us had to make a choice. So there I was. I had no hobbies. I wasn't interested in decorating my house or watching daytime TV and there was a lot of time when my son was sleeping."
So Rochelle did what came naturally -- she cooked. Having grown up as the youngest child in an Italian family, she'd spent years by her mother's side, helping to prepare hearty Sunday gravies laden with meatballs and sausage and lighter sauces the family would enjoy during the week over pasta or chicken.
"Cooking was a creative outlet for me," Rochelle explained, "but with a small child, there were a lot of times that I couldn't get out to the store, so I'd experiment with whatever I had in the fridge. And there were always olives and capers! So I'd try out different sauces. My husband was never quite sure what he'd find when he got home, but on nights when there were no leftovers, I'd make sure to write down that recipe."
Many plates of pasta later, Rochelle had a second son, but it wasn't long before both her children were in school and once again, she was left with hours to fill and a yearning to get back to work. But what she discovered was that potential employers weren't all that eager to hire a mom with two children.
"People kept asking what I would do if my child was home sick," Rochelle recalled. "It seemed like the fact that I was a mother carried more weight than the experience I had. People think because you quit your job to have children that your head turns to mashed potatoes."
So Rochelle went back to cooking -- but not just meals for her family: She began cooking up a plan that would allow her to be there when her kids came home from school, but still have meaningful work. And she realized the perfect solution was right in front of her, bubbling to the surface of the steaming pots on her stove.
"We live in an area where there are a lot of two-career families who commute in and out of New York City," she said, "and there are companies that make dinners for people. They send their menus around with the week's choices and deliver the meals ready to serve. I knew my sauces were better than anything you can buy on supermarket shelves and parents would like the idea that they were homemade, so I thought why not sell them directly to the families in the neighborhood?"
Rochelle decided to combine her background in marketing and promotion with her love for making sauce. She created a club, where customers could pay a $20 membership fee, which would cover delivery costs anytime they placed an order, yet allow them to purchase as much or as little as they wanted each week. And then she began throwing parties.
"At the time a lot of people were having jewelry parties in their homes, where you could sell your gold. I actually went to one and sold some things I had from my childhood and I was using that money to start the business. So I thought, why not throw a sauce party? I set up a space under a tent and made it as elegant as I could. I had chafing dishes with pasta and lots of different sauces. And that night I picked up my first 22 regular customers."
The fledgling entrepreneur quickly moved her operation into a commercial kitchen and began cooking on Mondays and delivering on Tuesdays. It wasn't long before her friends were throwing sauce parties, and as her customer base expanded, so did her menu. Bergen County, New Jersey was being blanketed with a selection of seven sauces along with a monthly special Rochelle often came up with as she was preparing dinner for her own family.
It was just a matter of time before her sauce would touch the lips of someone who had the power to put it on supermarket shelves.
"I was organizing what I needed for a party," Rochelle recalled, "when one of the moms in the neighborhood came over to pick up her son. She mentioned that her husband worked for a major natural food chain and offered to have him taste my sauces. If I was going to send it to someone, he would have been the guy. I just wasn't ready yet or at least I thought I wasn't.
But opportunity was knocking and Rochelle didn't hesitate to answer. She packed up her sauces and held her breath.
"And then I got the call. He tasted it and he loved it! And he said he wanted more to bring into the office because they were looking for a private label sauce."
The buyers were about to do a blind tasting, and they decided to include Rochelle's homemade recipes in the mix. What she didn't know was that they had moved up the date -- until her husband came home with a bottle of champagne.
"He had been having conversations with them," Rochelle explained, "and he knew the date had moved up, but he didn't want me to be anxious about it, so he had them call him. So when he came home with champagne, I just thought someone at work had given it to him. But then he said, 'It's for you. They picked your sauces.' I just laid down on the floor. I couldn't even stand."
Rochelle's sauces were going to be the private label brand for the chain's stores in New York, New Jersey and the Southern half of Connecticut -- they started out by ordering more than a hundred cases a week.
"It was beyond what I ever imagined," she said with a smile. "There I was in a manufacturing plant, watching a chef on a four-foot ladder stirring my sauce. These same things were made in my kitchen, while I was still in my pajamas. And now I was in a real facility, with people who have real jobs, stirring my sauce and putting it into containers.
And there would be many more containers to come, once Rochelle decided to sell her sauces under her own name as well. Just four years from the time she began her neighborhood club, Randazzo's Honest To Goodness Sauces are now in East Coast ShopRite stores, D'Agostino's supermarkets and the grocery section of Duane Reade drugstores throughout New York City. And she's making her way across the country having recently received an order from Whole Foods. This year, she expects to sell half a million dollars of her homemade sauce.
"When people say to find a hobby you love and try to make money with it, that's advice well taken. Find something you love and find a way to do it with realistic expectations. But you have to know how much you can handle. I send my kids to school and that's the time I use to make appointments, to do demos and to develop new products. And when they get home, I take them to sports practice and help them with homework. You don't want to sacrifice the happiness around you.
"Success doesn't have to mean you live in a mansion," Rochelle said as she glanced over at a picture of her family. "Success is finding a balance that works for you."
To learn more about Randazzo's Honest To Goodness Sauces, you can visit http://randazzossauces.com/.
It Ain't Over: Rochelle Randazzo
After giving birth to her first son, Rochelle Randazzo and her husband Kirk realized it was going to be a struggle to juggle two fast-paced careers and the demands of a newborn baby. So together Rochelle and her husband made a decision: she would stay home with her son, while Kirk worked. But it wasn't long before Rochelle created a whole new business for herself.

While her son was asleep or at school during the day, Rochelle began to fill her time by cooking. As the youngest in a large Italian family, she was very familiar with the art of a good pasta sauce. So in her free time Rochelle began perfecting her mother's recipes. Here, she is making her white clam sauce for Christmas Eve dinner.

Soon Rochelle wasn't just cooking up some amazing meals, but an even larger plan to start selling her homemade sauces to the busy families in her neighborhood. Not only would her business venture allow her to be there for her kids, but she would also be able to prepare meals for those parents that were juggling the demands of work and family. Here, Rochelle prepares her famous sauce for her family on Christmas.

Rochelle is always cooking up something delicious for her fast-moving family, even when she's on "vacation". Here, her husband Kirk and their two boys, Jack and Ty, dig in.

A maverick in marketing, Rochelle first introduced her business to her customers by throwing a "sauce party" in her backyard. She set up a tasting tent with a variety of pastas and several of her different sauces, and that night she picked up her first regular customers. As her business grew, Rochelle took her parties on the road. Here she is in Costco at a roadshow, where she is sampling her sauces.

Even as her business has grown Rochelle's family has remained her central focus. Here she is with her son, Jack, at a roadshow in Costco.

When Rochelle first started out, she had never intended on taking her recipes to the supermarket shelves, but before she knew it she was talking with the buyers of a popular natural supermarket about making her sauces the company's private label sauce. One night her husband came home with a bottle of champagne and the news that the company had bought her sauce.

It was less than four years from the time that she had started marketing her sauces to families in her neighborhood before Rochelle's sauces were under her own name on the shelves of supermarkets all over the East Coast. Today, Randazzo's Honest To Goodness Sauces are in ShopRite stores, D'Agastino's supermarkets and Duane Reade drugstores.

Rochelle recently received an order from Whole Foods -- a deal that will put her sauces on supermarket shelves all across the country. This year alone, she expects to sell half a million dollars worth of her sauces.

To date Randazzo's Honest to Goodness Sauces come in six different varieties: vodka, plum tomato basil, puttanesca, alfredo, marinara pizza, and fra diavolo. Pictured here, the fra diavolo, a spicy sauce that serves as the perfect compliment to shellfish, shrimp, scallops and just about any kind of seafood you could imagine.

Even through the process of mass-producing her sauces, Rochelle has made it a point to maintain the integrity of her original recipes. To date she continues to use all-natural ingredients and as much locally sourced produce as she can. Pictured here, Randazzo's Honest to Goodness marinara-pizza sauce, the company's "straight-up marinara" sauce.

The driving force behind Rochelle's business venture was her family. Here, she poses with her two boys, Jack, left, and Ty, right.

It was her husband, Kirk, who first broke the news to Rochelle that her sauces had been selected to become the private label of a prominent natural supermarket. And throughout her venture, he has been by her side. Here, Rochelle and Kirk pose at the top of Mohonk Mountain, New Paltz.

Keeping up with and feeding two boys while working from home has never been an easy task for Rochelle. So in order to keep things fun, the boys have lunch in the backyard after playing in the snow. On the left is Jack, at age 2, posing with his big brother, Ty at age 5.

Rochelle never imagined not having a job; once she made the decision to stay at home with her boys, she discovered a career path she could have never dreamed of. Here she poses with her newborn son, Jack, her husband, Kirk, and Ty.
Add Marlo On Facebook:
Follow Marlo on Twitter:

Weekly Newsletter

Sign up to receive my email newsletter each week - It will keep you up-to-date on upcoming articles, Mondays with Marlo guests, videos, and more!

Sign up here