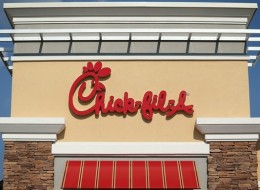 A national debate is currently raging. Not over the merits of a war, the fairness of a national election or the scandal of a highly publicized celebrity affair. It's over a fried chicken fast food chain, Chick-fil-A.
Chick-Fil-A's recently uncovered anti-gay policies have spurred boycotts on the one hand, and record sales for the chain on the other. City mayors are divided on the issue, while sponsors are jumping ship even as one franchise owner from a rival fast food chain voices his support.
But while some may view Chick-fil-A's product as trivial, the broader questions at stake certainly are not. Indeed, the fast food chain's unexpected entrance into a national debate on gay rights comes as part of a long American tradition of fighting battles of ideology on the field of consumerism. Just look at the East India Company or National City Lines, the companies confronted by the original Boston Tea Party and the Montgomery Bus Boycott, respectively.
The episode is sure to remind some of moral debates that have ensued over brands in the past, such as the 1970s and '80s boycott of Nestlé over its promotion of infant formula in third world countries. More recently, Ralph Lauren became a symbol of the debate over offshore manufacturing when its U.S. Olympic uniforms were found to be made in China.
But it remains anyone's guess as to how these debates eventually shake out. More than a decade after Joe Camel was held partly responsible for increasing teen smoking by 73 percent from 1988 to 1996, tobacco sales to minors hit an all-time low last year. Meanwhile, Monsanto, the agricultural biotechnology corporation often criticized for the impact its genetically modified seed has had on local farmers, just won a $1 billion patent infringement case.
Check out some more brands that have, in one way or another, become ideological battlefields:
Brands That Have Become Ideological Battlefields
After it was discovered that Chick-Fil-A had donated over $2 million to anti-gay organizations in 2010, the fast food chain quickly found itself in a PR disaster thanks to its leader's stance on gay marriage. CEO Dan Cathy's "guilty as charged" response to the anti-gay accusations were quickly matched by Chick-Fil-A denouncements and protests across the country.

Ralph Lauren became the center of a debate on offshore manufacturing when it was discovered that the uniforms it supplied for the 2012 U.S. Olympic team were made in China. Amid high unemployment and a struggling U.S. manufacturing sector, both Ralph Lauren and the Olympic committee were roundly criticized by Congress.

Backpage.com, a popular online destination for escort services owned by Village Voice Media, has been repeatedly accused of enabling child sex trafficking via its classified ads. In response, 27 companies, such as Best Buy and Starbucks, have pulled advertisements from Village Voice publications.

Wells Fargo, the nation's largest residential home mortgage originator, has been accused of predatory and discriminatory lending practices toward black and hispanic customers. In July 2012, the bank paid $175 million in a settlement over allegedly unfair loans it made between 2004 and 2009.

Agricultural biotechnology corporation Monsanto has been accused of exploiting farmers in a variety of ways in several countries, including Argentina, Brazil and India. A lawsuit is currently pending over poor working conditions for its farmers, while its promotion of genetically modified cotton and soy beans has allegedly caused significant problems for local farmers.

After a rash of worker suicides at Foxconn, the Chinese manufacturer responsible for making some Apple products, the California technology company was broadly criticized for exploiting cheap foreign labor. An ensuing audit by Apple found that Foxconn had violated Chinese labor laws, leading the company to pledge to increase pay and reduce worker hours.

Domino's raised the ire of those with Gluten allergies and celiac disease when it began advertising a pizza with gluten-free crust. Critics say that since the dough was made alongside Domino's regular crust, it often still contained gluten and could cause allergic reactions , Fox News reported.

In a massive class-action lawsuit, Walmart was accused of denying pay raises and promotions to female employees based on gender. The Supreme Court ultimately sided with Walmart in June 2011, saying female employees couldn't constitute a class, but a subsequent lawsuit has now been filed by around 2,000 employees based on similar claims.

Girl Scouts of U.S.A. were criticized for contributing to destruction of the rain forest when two scouts petitioned the organization to cease using palm oil in their cookies. The oil is often harvested at plantations made by clearing rain forest acreage.

Gap, the largest U.S. apparel retailer, found itself in the middle of a media firestorm in 2007 when it admitted it may have unknowingly used child labor in India for the production of one of its clothing lines, ABC News reported.

In 2003, Pepsi found itself in trouble over its use of water at bottling plants in India. In a nation plagued by frequent water shortages, Pepsi was accused of diverting water away from citizens to make its product, the New York Times reported.

Taco Bell set off a debate on the merits of genetically modified food in 2000 when it was found that its store-bought taco shells were made from a type of modified corn only approved as animal feed, CNN reported.

Camel cigarettes was targeted for contributing to teen smoking in the late '90s when a report found that the number of American youths smoking daily had increased 73 percent from the company's debut of corporate mascot Joe Camel in 1998 until 1996, the New York Daily News reported.

Nestlé was accused of endangering babies in third world countries in the 1970s and 1980s by promoting infant formula that posed health risks not found in traditional breastfeeding, The New York Times reported.