KFOR Reporter Chellie Mills Gets Caught In Weather Report (VIDEO)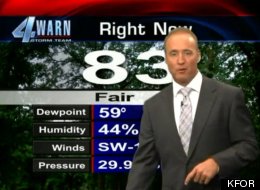 Viewers were surprised when KFOR reporter Chellie Mills wandered into the background shot of a weather report.
Meteorologist David Payne was breaking down the forecast from the studio. The background was a feed from a camera at Lake Arcadia, where Mills was setting up for a live report. Watch her try to escape the camera once she realized she was in the shot.