El chisme de que Kristen Stewart y Robert Pattinson han terminado después de que ella le fue infiel con Rupert Sanders, su director en la película "Snow White and the Huntsman", sigue dando de qué hablar...
En esta ocasión, no te ofrecemos más rumores o especulaciones sino un poco de humor... negro. Con tintes de sátira, aquí te presentamos la imagen obviamente falsa, creada por una artista, imaginándose cómo se vería la bandeja de entrada del correo de Kristen Stewart en estos momentos.
Lee hasta el final, para que veas "mensajes de apoyo" de famosos como Tom Cruise, Justin Bieber, Taylor Swift y burlas de otros artistas como Kanye West, así como el ex de Kristen, el actor Michael Angarano y su co-estrella en "Twilight", Nikki Reed, con quien supuestamente andaba antes Robert Pattinson
Además, más supuestas quejas de Charlize Theron, su compañera en "Blancanieves y el cazador", quien dicen que está "furiosa" por este escándalo, pues es amiga de la esposa de Sanders y cree que pondrá en peligro la segunda parte que se planea.
Es una manera de encontrarle el sentido del humor a este chisme tan bizarro e inesperado que ha sorprendido al mundo entero.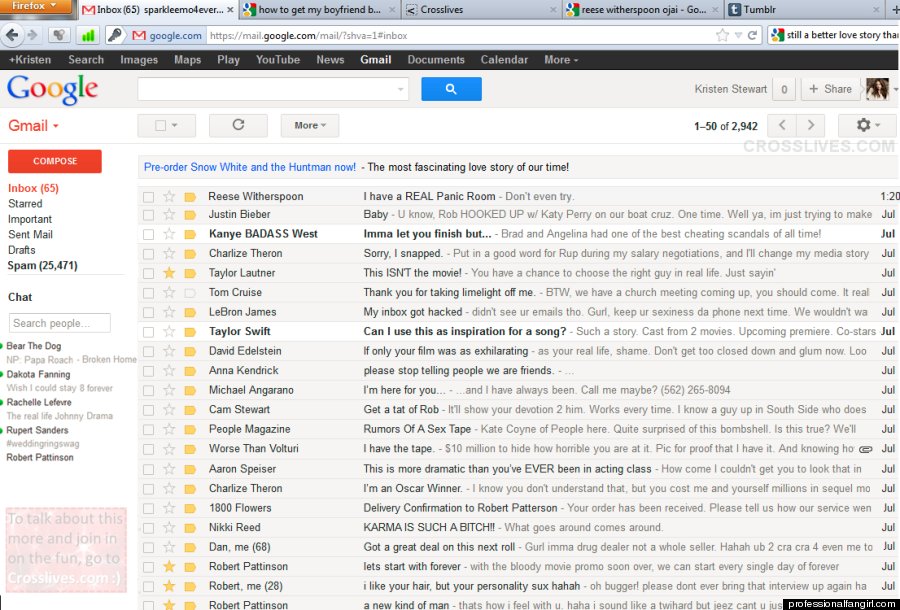 PHOTO GALLERY
BEFORE YOU GO
Kristen Stewart
PHOTO GALLERY
Kristen Stewart
PHOTO GALLERY
BEFORE YOU GO
Robert Pattinson
PHOTO GALLERY
Robert Pattinson