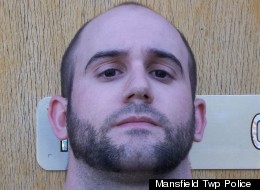 A New Jersey man was arrested at a local Home Depot Tuesday after allegedly causing a disturbance by showing up to the store dressed in a Batman-like costume.
The Lehigh Valley Express-Times reports that 23-year-old Matthew Argintar came to the store dressed in a "mask, cape and body armor," including "tactical pants, elbow and arm pads and a bulletproof vest underneath his clothing," then approached shoppers in the store's parking lot, reportedly asking them if they needed help.
Witnesses told the newspaper that many customers retreated to their cars upon seeing Argintar, recalling the recent tragedy at the premiere of "The Dark Knight Rises" in Aurora, Colo., in which suspected gunman James Holmes, also dressed in body armor, allegedly opened fire on crowds of moviegoers.
Argintar, who police said was unarmed but carrying handcuffs, was arrested after Mansfield Township police received several emergency calls regarding what witnesses feared was a Colorado "copycat." A separate Express-Times article reports that Argintar said he was only trying to "inspire hope."
According to the report, Argintar claimed affiliation with a group of about 100 individuals who call themselves "real-life superheros." The association, which claims that its main objective is to "inspire others to go out and do good," has a member-restricted section of its website with public links to crime fighting, equipment, police scanner feeds, and U.S. law sites.
This isn't the first time that a member of that group has gotten in trouble with the law.
In October 2011, Phoenix Jones, another "real-life superhero" was arrested for assault in Seattle after he pepper-sprayed a group of people.
ABC News reported that Jones perceived that revelers were fighting in the street. According to police, the people claimed to be "'dancing and having a good time' as they walked to their car," and were not involved in a conflict.
Jones, who was accompanied by a camera man and a freelance journalist as he patrolled the streets, later released raw video of the incident in which he and his crew are verbally and physically rebuked by two women.
The people below might not have been arrested, but they were fired for some weird reasons. See why:
Weird Reasons That People Get Fired
In 2009, a female Dutch McDonalds employee was fired after she gave a colleague a cheeseburger instead of the cheaper hamburger that had been paid for, The Telegraph reports. A Dutch court ruled that the firing was too severe a punishment and ordered McDonald's to pay the ex-employee the full salary for what were the remaining five-months on her contract, as well as legal fees.

Stephanie Cannon was fired from her reception job at the Frauenshuh Cancer Center of Park Nicollet Health Services on the grounds that she smelled like smoke at work, KSTP-TV reports. Cannon is a regular, pack-a-day smoker who told the local ABC affiliate that she never brought her habit with her to work.

Home Depot fired Judy Henderson in 2010 after she told the company that she would extend her sick leave because of a cancerous tumor. The company agreed to pay $100,000 to Henderson, who had worked at Home Depot since 1997.

Wells Fargo fired Richard Eggers from his job of nearly 7 years in July after discovering that he was caught putting a cardboard cutout of a dime in a laundromat washing machine nearly 50 years ago.

Former Tuesday Morning CEO Kathleen Mason claimed that she was fired from her position after she disclosed to the company's board that she has cancer. One board member even allegedly made fun of Ms. Mason's wig. Her charges are being taken to court as she sues her former employers for damages and reinstatement.

Philadelphia Eagles stadium operations worker Dan Leone was fired after he updated his Facebook status criticizing Eagles management for trading Brian Dawkins in 2009, CNET reported. Mr. Leone allegedly posted this: "Dan is ******* devastated about Dawkins signing with Denver...Dam Eagles are Retarded."

In 2007, New Zealand resident Vicki Walker was fired from her job for sending emails in bold, red-underlined all-caps fonts, Fox News reports. Walker was laterawarded $17,000 for wrongful termination.

Barista Christopher Cristwell was fired by Starbucks after he took his pent-up anger out on Youtube, The Daily Mail reported. Known as "The Starbucks Rant Song," Mr. Cristwell told his internet viewing audience that cappucino lovers were "the worst of all." A spokesman for Starbucks stated: 'While Christopher was expressing his own views in the video, the disparaging remarks about our customers and company are unacceptable and out of line with our commitment to our customers and partners (employees).'

Ronald Kratz II was fired from his job as a parts sorter after his employer determine that it interfered with his job performance, Fox News reports. Following his dismissal, Katz filed a complaint with the Equal Employment Opportunities Commission and lost over 300 pounds.

Russian newsreader Tatyana Limanova was let go after she gave President Obama the finger on live television, The Telegraph reports. Limanova claims that the gesture was just a misunderstanding rather than an insult towards the leader of the free world.