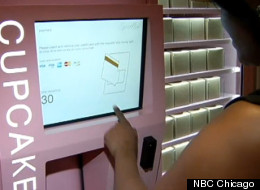 According to a Facebook post from Sprinkles Cupcakes Chicago, the confectionary-dispensing device we've all been waiting for will be available to the public in a matter of days.
The 24-hour cupcake machine will be housed just outside Sprinkles' storefront at 50 E. Walton St.
The vending machine holds 600 cupcakes at a time, and charges $4 apiece--50 cents more than an in-store cupcake, according to CBS 6. For some, the "convenience fee" is a small price to pay to avoid the often-long lines that plague the popular bakery.
(See the ATM in action below. Scroll up to check out the original cupcake ATM, which debuted in March, courtesy of our friends over at HuffPost L.A.)
View more videos at: http://nbcchicago.com.