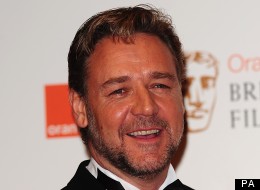 "The Dark Tower" may actually wind up being a movie. Ron Howard's planned adaptation of Stephen King's epic series hit the skids back in July of 2011 when Universal announced that it wouldn't move forward with Howard's crazy and ambitious (crambitious?) plans to turn "Dark Tower" into three films with two television series components to air in the years between. Now, however, Warner Bros. may foot the bill, and according to Deadline.com, the studio will make a decision within the next couple of weeks about whether to move ahead. Akiva Goldsman, Howard's Oscar-winning collaborator on "A Beautiful Mind," is writing the script.
That's not the only connection to Howard's 2001 hit: Per Mike Fleming at Deadline.com, Russell Crowe could star in "Dark Tower" as Roland Deschain (a.k.a. The Gunslinger). When the project was set up at Universal, Javier Bardem was attached to the role.
The first novel in King's series published in 1982, and the author recently added to the mythology with another edition this year. All told, there are eight "Dark Tower" novels.
Bringing "Dark Tower" to the screen has proved difficult. Back in 2007, J.J. Abrams was reportedly interested in directing the film, but later said the project was "tricky." Howard's large-scope plans were jettisoned by Universal during the studio's cost-cutting last year. (In addition to "Dark Tower," Universal scrapped plans for an "At the Mountains of Madness" adaptation with Tom Cruise and director Guillermo Del Toro.)
"We looked at the economics of ['At the Mountains of Madness' and 'Dark Tower'] and it just didn't make sense for us, for what we would have to put out for what we could make back," Universal president Ron Meyer said during a Q&A session at the Savannah Film Festival last year. "It didn't feel secure enough for us, and that's the reason we didn't do it."
He later added that while both were "good projects," the economics of putting each on screen was too risky.
"My first responsibility is to do what's right for the studio, so I can't worry about what's right for Ron," Meyer said about Howard, with whom the studio has made many films. "He has the right to take it elsewhere and I hope he gets it set up."
For more on if Howard can get it set up, head over to Deadline.com.
[via Deadline.com]
2012 Book Adaptations To Watch
Another year, another "Great Expectations" adaptation, this time with Ralph Fiennes as Magwitch, Helena Bonham Carter as Miss Havisham, and Jeremy Irvine (the emoting boy in War Horse) as Pip. This version is directed by Mike Newell, owner of the weirdest filmography ever: "Harry Potter 4," "Mona Lisa Smile," "Donnie Brasco," "Prince of Persia," and "Four Weddings and a Funeral." We're not sure how necessary this is, and there are no indications that there will be anything new and different done with Dickens, and that's why it's likely it'll probably be a perfectly competent adaptation and not much more. Still, Dickens done average is better than most anything done well.

Stephen Chbosky's beloved book about a teenage outsider dealing with love and his best friend's suicide finally comes to the screen. What's most interesting is Chbosky is directing the film, and has adapted the screenplay. Whether it catches on with the teenage crowd will make or break the film. Look for Wallflower to hit around the end of the year.

The 13th film adaptation of Tolstoy's epic love story features Keira Knightley as Anna and Jude Law as her husband Alexei, with Aaron Johnson as Vronsky, her young lover. Joe Wright, director of "Atonement" and "Pride & Prejudice," teams up with Tom Stoppard, who's probably best known for his screenplay for "Shakespeare in Love." Look for this prestige picture to hit in awards season and to collect a bunch of nominations.

Boy oh boy, look at those names. Tom Hardy, Guy Pearce, Jessica Chastain, Mia Wasikowska. Directing: John Hillcoat, responsible for "The Proposition," one of the best westerns since Leone was around. The story, based on Matt Bondurant's novel, is about the Bondurant boys (Hardy and Shia LaBeouf), two bootleggers who chase the American dream in Prohibition-era Virginia. It's like Boardwalk Empire without the disappointment. Release was originally scheduled for December of last year, but the Weinstein Co. pushed it all the way to this August to capitalize on all the attention Hardy will get as Bane in The Dark Knight Rises.

Peter Jackson takes us back to Middle Earth with the first half of Tolkien's other epic. Martin Freeman plays the young Bilbo Baggins, who is approached by Gandalf the Grey (Ian McKellen reprises his role) to take back Erebor, the dwarf kingdom conquered by the dragon Smaug. Elijah Wood, Cate Blanchett, Orlando Bloom, Ian Holm, and more return for this go-around. There's not a lot more to say about it, because you already know if the Jackson/Tolkien pair is your thing. But out of all the adaptations here, it's likely between Hobbit and Hunger Games for highest grossing. The last Lord of the Rings took in $377 million, and Hobbit should land somewhere in that ballpark. How much can Hunger Games rack up?

Here's a confession: I've never seen Robert Pattinson act. I hear he's the worst. But here's something else: "Cosmopolis" is being directed by David Cronenberg, a person whom I've already asked to be my valentine. And if David wants to cast this, then I'm okay with it, because, by my count, he's made a half dozen great movies, including three masterpieces ("A History of Violence," "Eastern Promises," "Dead Ringers"). "Cosmopolis" is Don DeLillo's one-day book centered around the peak of corporate dependency and market optimism just before it crashed. The book takes place in young billionaire Eric Packer's stretch limousine as he heads to the barbershop across the city. Count us in.

One of the wild cards on the list because it has a lower floor than most others here. The risk/reward seems fairly high, as it does with most Baz Luhrmann pictures. Questions abound. Why is Baz insisting on the movie being 3D? Why is Tobey Maguire playing Nick? But on the other hand, DiCaprio as Gatsby, Carey Mulligan as Daisy, and Joel Edgerton as Tom all get vigorous thumbs-ups. The verdict on the film will come down to whether it slides into camp melodrama (~1:10 odds on that happening), and how successful this over-the-top tone is, whether it's more like Moulin Rouge! (good) or Australia (bad). And either way, I think we'd all prefer a not-so-successful, over-the-top "Gatsby" versus the sterile Redford "Gatsby."

District 12′s tribute is Katniss Everdeen, who must fight 23 other tributes in a game of survival broadcast for the entire nation of Panem to watch. But we all knew that already. It'll be interesting to see how Lionsgate maneuvers this adaptation around its source material, trying to get the largest possible audience while also hoping to avoid the poor reputation of the Twilight movies, which have become poster childs for vacuous studios cashgrabs that prey on a rabid fan base. However it turns out, you can expect to find me in the front row on opening weekend with the biggest popcorn they make. I'm sure we'll have a good discussion together, you and I.

David Mitchell's big book about how our actions have consequences for others throughout history has three directors: The Matrix's Wachowski brothers are sharing the same chair with Tom Tykwer, who is best known for "Run Lola Run" (and the criminally underappreciated "Perfume"). The cast: Tom Hanks, Hugo Weaving, Halle Berry, Susan Sarandon, Hugh Grant, and Jim Sturgess (who is really good at getting people to try to figure out what his appeal is). Estimated budget: $100 million. With the pedigree involved, and with concept art that looks like the above, it's hard not to get excited; let's hope it doesn't slide into sentimentality, as these "multiple story movies" are known to do, trading cheap heartstring yanks in order to shoehorn surface emotion into an overcrowded ensemble picture.

Yann Martel's massive sensation "Life of Pi" comes to theaters, and it has us excited because of the risk Fox Filmed is taking: they're making it in 3D. There will be around 35 3D Hollywood movies released in 2012, the vast majority of them superhero or genre films. "Life of Pi" is a boy and a tiger in a boat. That's about it. And what's so enticing about Pi's 3D is that Ang Lee, a stickler for visuals, is directing. And unlike Luhrmann, we trust Lee to do smart things with the 3D. We're interested to see what he can do with so little (relatively), and the challenge of adapting a pretty difficult to adapt book is more than enough to get us in the theater.