At long last we are bringing back our "Guess the Artist" feature, in which you can put your artful eye to the test by recognizing a top artist's lesser known works.
We're kicking it off with this mysterious oil painting, whose somber colors and simple strokes make the image clear but the artist somewhat difficult to decipher. While the painter clearly had a dark side judging from the palette, that hardly eliminates any of your choices, does it?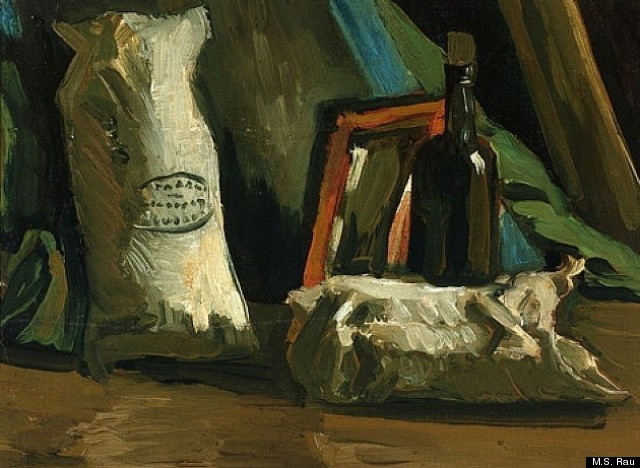 What do you think, readers? Is it Impressionist, Post-Impressionist, Post-post-Impressionist? (Take your best guess. No Googling!)
Ready? We'll post the results tomorrow on Twitter.
UPDATE: The answer to this edition of "Guess the Artist" is Vincent Van Gogh. The work above is his "Still Life with Two Sacks and a Bottle" (1884-85).
Vincent Van Gogh's "Irises" was painted right before his death in 1890. In 1987, "Irises" was temporarily the most expensive painting ever sold when Alan Bond snapped it up for $54 million. However, the collector realized he didn't have enough funds in the end, so it now hangs in the Getty Museum.

Pierre-Auguste Renoir, "Dance at the Moulin de la Galette" (1876). In 2009, the painting sold for $78 million at Sotheby's, making it the fifth highest amount ever paid for a painting at auction at the time. Two versions of this painting exist. one resides at the Musée d'Orsay in Paris, and the smaller version was sold on May 17, 1990 to Ryoei Saito, a Japanese collector who was later arrested for attempting to bribe authorities.

"Garçon à la Pipe" ("Boy With A Pipe") is one of Pablo Picasso's best-known youthful works, and was painted when he was 24. On May 5, 2004 it sold for $104.1 million at Sotheby's.

The previous record price for a painting was $135 million for Gustav Klimt's "Portrait of Adele Bloch-Bauer" which was purchased by Ronald S. Lauder and then donated to the Neue Gallery in New York.

Max Ernst's "The Stolen Mirror" sold for $16,322,500 -- tripling the previous record for the artist -- back in November 2011. The work was painted in 1941.

LONDON, ENGLAND - MARCH 23: Employees George Foren (L) and Matthew Fancy hold Banksy's 'Kate Moss 2005' at Bonhams on March 23, 2012 in London, England. The painting, estimated at GBP 30,000 - 50,000, USD 48,000 - 79,000, 35,000 - 59,000 euros forms part of the Urban Art Sale, which takes place at Bonhams on March 29, 2012. (Photo by Peter Macdiarmid/Getty Images)

Adriana Varejão, Parede com incisões a la Fontana II (Wall with incisions a la Fontana II), Oil on canvas and polyurethane on aluminum and wood, 2001, 70.9 x 98.4 in. (180 x 250 cm), Christie's London, Wednesday, February 16, 2011, Lot 58, Post-War & Contemporary Art Evening Auction, Estimate: $310,000-450,000, Sold For: $1,769,505, Courtesy Christie's Images Ltd. 2011. As Bruce Helander writes, "It set two milestone records: being the first work of Brazilian contemporary art to reach the $1 million mark and also a career achievement for the artist (regrettably not such a common occurrence for female artists, no matter her homeland)."