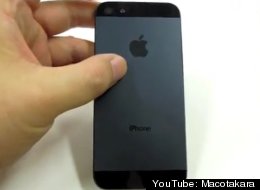 Hello, ladies and gentlemen, and welcome to This Week In Apple Rumors, our regular look back at all of the week's unconfirmed gossip, questionably-sourced reports, and blatant speculation about future Apple products from around the Web! Let's take a look back at what the various Apple blogs and websites we're excited about in the past week, from July 29 - August 4. Check out our previous edition of Apple rumors here, and for all the latest you can follow me on Twitter right here.
This past week, the following publications of high repute reported that an unnamed source had confirmed that Apple would introduce a new iPhone on September 12: Bloomberg, Reuters, the New York Times, The Verge, The Loop, AllThingsD, iMore. If you don't think these "unnamed sources" are just Apple PR representatives directly calling up reporters at favored publications, supplying them with information, and instructing them not to cite Apple as the source of said information -- well, then you won't believe what common adjective they left out of the Oxford English Dictionary. Yes, an iPhone event is happening the week of September 9; and yes, Apple is going to introduce a new iPhone; and yes, it's likely that the new phone will be out the following week (iMore, who was first to nail the iPad 3 new iPad's release date this past February, says it'll be September 21; based on past precedent, that seems reasonable). So, yeah, September 12, big Apple event, mark your "Sexy Ladies Wearing Camo Holding Guns" calendar. And what, oh what, do we expect to get from this new iPhone (aside from a false sense of fulfillment and superiority over our peers, obviously)? Let's check the latest from the Apple rumor-dome.

Okay, so: September 21 for the new iPhone (probably). What's it going to look like? Well: All the old rumors are still in play -- the smaller dock connector, the headphone jack on the bottom of the phone, the larger 4.0-inch screen. One website claimed to have gotten its hands on the front glass display and showed it off in a YouTube video. That picture you're looking at is the 'iPhone 5' compared with the iPhone 4s. So, yeah, it would be taller, but about the same width (and we're also expecting it to be thinner, too). There was also this short video, from Macotakara, which purports to show the housing for the next iPhone. You can watch it here, and note the new dock connector, headphone jack, device size, etc.

Well, sa wat dii khrap, little (Tha)iPhone! An ex-employee of the tech site Neowin was strolling through the MBK Centre mall in downtown Bangkok when he (or she) got his (or her) hands on what appears to be a next-generation iPhone. Neowin has all the photos its former contributor took here, who says that the device in the photos is a -- and I quote -- "non functional replica prototype." He would have talked more about the phone, but apparently he was tongue-Thai'ed. Anyway, the gadget in the pictures sure looks like what we've been told the iPhone 5 will look like, though: About the same height, and it's got the smaller dock connector and hole for your headphones on the bottom of the device. Not sure how this iPhone fell off the back of the truck, but next time the factory should Thai it down more securely. (I'm done. Until next time: Sa wat dii khrap!)

iLounge's Jeremy Horwitz is one of those Apple insiders, like Ming-Chi Kuo of KGI Securities, that seems to have really solid information when it comes to upcoming Apple releases. This week, he produced two reports, one about the size of that changed dock connector (it could be even smaller than many outlets have reported) and a second with SEVEN different rumors he's received from his mysterious sources. In short: Horwitz thinks the new iPhone will arrive in mid-September, with two new Apple-made cases; that at the same time, we'll also get an updated iPod Touch (but no iPod Nano); and that two new iPads -- a Mini, and a refreshed iPad with the smaller dock connector -- could be out by the end of the year, too. It is more likely, Horwitz surmises, that the iPad Mini and iPad 4 new iPad will be out in early 2013. That is but a taste of what Horwitz offers in his latest; read his entire report on Apple's future gear here.

Here's the debate of the week: Will Apple release the "iPad Mini" -- an eternally-rumored smaller, 7.85-inch version of its 9.6-inch iPad -- at the same time as the "iPhone 5," or will it hold off for a separate event, either just before Christmas or in early 2013 along with the next iPad? We've heard all of those possibilities in the past week. iMore, who first broke the September 12 announcement date for the next iPhone, reported that Apple would unveil the teensier iPad along with the iPhone on that date; RBC Capital Markets analyst Amit Daryanani agreed in a note to investors this week. Writes Daryanani, as quoted in Boy Genius Report: [S]upply-chain checks suggests we will have more than just a iPhone-5 launch. While its unclear if the additional product is an iPad refresh or a 'mini iPad', we do believe AAPL may look to leverage the price elasticity of the nascent tablet market by having a ~$300 device. Not everyone is convinced that Apple would introduce the iPad Mini and the iPhone 5 on the same day, though, as Horwitz wrote that while Apple's smaller iPad will be ready by November, the company might decide to hold off until 2013 and unveil it along with the iPad 4 new iPad in February or March. That would, of course, give more time for 7-inch tablets like the Nexus 7 and the Kindle Fire to entrench themselves. Sooner might be smarter, in this case, especially with dozens of Windows 8 tablets likely due this winter, too.

And finally, we end on a wacky Apple patent: The U.S. Patent Office granted this gem to Apple last week, showing that Apple is working on a Smart Cover for the iPad that would have a small display of its own -- one that could work as a virtual keyboard, for example, or secondary controls for a movie or TV show, or just extra room for whatever's on the tablet's screen. The display could also act as a charger, as it would be lined with solar panels, as seen in the design at left. Patently Apple, which covers Apple patents, has a bunch more at its website on this so-called "interactive Smart Cover." Neat stuff, though probably not super close to being unveiled. That's all for This Week In Apple Rumors. Make sure you check back next week, when all of our rumors will be written completely in Thai; and remember, if you can't wait a whole week for your crop of Apple rumors, you can get up-to-the-minute Apple rumors by following me on Twitter right here.