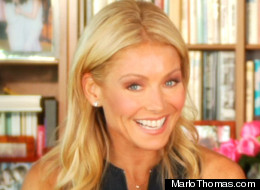 Emmy Award-winning talk show host, Kelly Ripa, recently joined me on Mondays with Marlo, and we talked about the hot topic of happiness. The always upbeat Kelly seems to have an abundance of happiness in her life, so I just had to ask her how she defines it.
And, if you adore Kelly as much as we do, you'll just love this look back at her illustrious career:
Kelly has a lively personality and boundless energy, which is why it's not surprising that she was a cheerleader in high school. After being encouraged by a drama teacher, she transitioned into acting through school plays and local television gigs. Her big break came when she appeared on the nationally televised program "Dance Party USA" as a regular dancer from 1986 - 1992, where her bubbly personality shined.

All of Kelly's small-time roles finally led to her big break - a permanent spot as Hayley Vaughan, a troubled woman with a long rap sheet, on daytime soap opera "All My Children." Kelly played Hayley for 12 years, and evolved into one of the most popular characters on the show. Kelly was distraught when the show ended in 2002. Little did she know, her career had only just begun.

Kelly's stint on "All My Children" didn't only bring her professional success. She met husband Mark Consuelos on set when he was hired to play her love interest on the show. After a year of hiding their relationship, Kelly and Mark eloped in Las Vegas in 1996. The couple now has three children - Michael, Lola and Joaquin.

Kelly's natural sparkle helped her win the role of co-host on "Live! with Regis" in 2001. The two hosts had fantastic chemistry, and ratings for "Live! with Regis and Kelly" soared. In 2011, both Regis and Kelly won Daytime Emmys for Outstanding Talk Show Host. Regis left the show in 2011, marking the end of one of daytime TV's most memorable partnerships.

From 2003 - 2006 Kelly starred as Faith Fairfield on the ABC sitcom "Hope & Faith." Kelly's character - a lazy, unsuccessful actress - couldn't be any more opposite from her real life persona.

After Regis' departure, Kelly took over as the lead host of "Live! with Kelly." Since 2011, she has been conducting on-air interviews for a new co-host - the same process she went through before joining the show. A diverse array of candidates have taken a shot at auditioning, including Neil Patrick Harris, Mario Lopez, Michael Strahan and Jerry Seinfeld. Though a new co-host has yet to be chosen, Kelly is holding down the fort well. In 2012, "Live! with Kelly" won its first Daytime Emmy for Outstanding Talk Show.

When Kelly hosted the TV Land Awards, she dressed up as classic TV icons, including Mary Tyler Moore, Sally Fields...and me! I must say, with my signature hairdo, tailored outfit and American flag, she does a great impersonation!

Kelly isn't just focused on her family and her career - she's also focused on making a difference. Having lost a childhood friend to ovarian cancer, she is passionate about raising money to find a cure. She has partnered with Electrolux to hold an event every summer that raises funds to benefit the Ovarian Cancer Research Fund. Here, she is pictured at this year's annual Super Saturday event.

Kelly and Mark decided to take the next step in their careers together when they founded production company "Milojo" in 2007. The company has premiered a number of films at the Tribeca Film Festival and debuted its first short film in 2012. "Bensonhurst Spelling Bee," a collaboration with Will Ferrell's comedy site "Funny or Die," was a parody of Italian-Americans in Brooklyn and went viral, achieving over one million views.

Married for over 16 years, Kelly and Mark set the standard for successful Hollywood couples. Their kids, Michael (15), Lola (11) and Joaquin (9) grew up in the spotlight, but this family seems to be as drama-free as they come. Bravo!
Add Marlo On Facebook:
Follow Marlo on Twitter:

Weekly Newsletter

Sign up to receive my email newsletter each week - It will keep you up-to-date on upcoming articles, Mondays with Marlo guests, videos, and more!

Sign up here