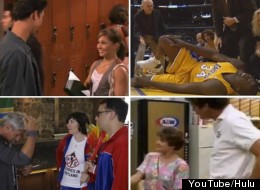 They can sprint, swim, vault and spike, but can Olympians act?
The switch from gold medals to scripted TV guest appearances isn't uncommon for Olympians. After rising to the national celebrity status that comes with being a star at the Olympics, many athletes get offers for magazine covers, advertising deals and TV appearances and cameos.
Gymnast Kerri Strug took to "Touched By An Angel" and "Clueless," tennis player Serena Williams guest starred on "ER" and "Law and Order: SVU" and basketball legend Kobe Bryant acted in "Moesha" and "Sister, Sister."
From Nastia Liukin to Michael Jordan, here are clips of some of the most memorable Olympians' TV appearances:
He shoots, he scores (a TV appearance)! Jordan, NBA star and two-time Olympic gold medal winner ('84 and '92), showed Damon Wayans' character a thing or two about basketball in a 2006 episode of "My Wife and Kids."

USA gymnast Nastia Liukin may have won her fair share of medals in the 2008 Olympics, but she still had to move over for Blair Waldorf in her "Gossip Girl" cameo that same year.

Shaq, who helped USA's basketball team win gold in 1996, made a trip to (and fell on) "Curb Your Enthusiasm" in a 2001 episode.

Mary Lou Retton won five medals (one gold for the all-around, in which she scored a perfect ten) in the 1984 Los Angeles Olympics in gymnastics. In 1993, the USA gymnast then helped "Baywatch" score big ratings with an appearance as herself. Retton also appeared on "Knots Landing" as herself.

Michael Phelps has won a record the most Olympics medals including a record eight in 2008 for swimming and has set multiple world records. Oh, and he had a cameo in "Entourage" shortly after his 2008 athletic performance that shot him to fame.

After USA swimmer Summer Sanders won four medals (two gold) in 1992, she went on to host "Figure It Out" from 1997-2000 on Nickelodeon. The show got a Nickelodeon reboot this year sans Sanders, but she did pop up with Michelle Obama at the 2012 Olympics in London.

Greg Louganis won five medals (four golds) for diving in the 1976, 1984 and 1988 Olympics. Recently, he dove into an episode of "Portlandia," playing himself in a 2011 episode.

Gary Payton was on the gold medal-winning basketball USA basketball team in 1996 and 2000 and he brought the competition in his 2-on-2 match with Vin Baker against Jamie Foxx and Shareef Abdur-Rahim on "The Jamie Foxx Show" in 1998. He also had a stint in a 1996 episode of the show.

Bruce Jenner may have won a gold medal in decathlon in the 1976 Olympics, but he's most recognized today as the Kardashian's step-father, regularly appearing in "Keeping Up With the Kardashians."

USA women's beach volleyball player Misty May-Treanor has won gold in 2004 and 2008, and is competing for it again this year with Kerri Walsh. In the time between the 2008 and the current Olympics, May-Treanor guested on "Wizards of Waverly Place" in a 2009 episode with Dwayne "The Rock" Johnson.

Shawn Johnson's not-so-secret life is that she took home four medals for gymnastics in 2008. She then appeared in two episodes of "The Secret Life of the American Teenager" (in 2008 and 2010) and won "Dancing With the Stars" Season 8.

Figure skater Brian Boitano wowed viewers of the 1988 Olympics and then had his own television show "What Would Brian Boitano Make" on The Food Network in 2009.
Which Olympians from London 2012 would you like to see in a TV appearance?