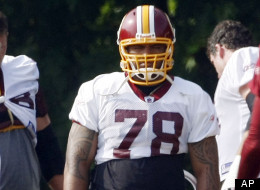 Former NFL player and USC football star Fred Matua died Sunday morning, as was first announced by the official Twitter account of the USC Athletic Department.
According to Garry Paskwietz of ESPNLosAngeles and other reports, the 28-year-old football player passed away on Sunday due to heart problems.
Matua started at USC as an offensive lineman for three years and helped the Trojans win 34 straight games, including the 2004 BCS Championship (which was vacated).
When the tragic news spread to his former USC teammates, some reacted on Twitter and sent their condolences.
@PeteCarroll

Pete Carroll
So saddened to hear about Fred Matua passing away at age 28. Very tough news this morning.
#FightOn
@MattLeinartQB

Matt Leinart
So sad to hear that my friend and teammate Fred Matua has passed. Words just can't describe it. RIP brother! You will be forever missed
@reggie_bush

Reggie Bush
RIP Fred Matua former college teammate and friend. You gonna be missed bro. Way too early...
Matua was selected by the Detroit Lions in the seventh round of the 2006 NFL Draft. He spent time with the Cleveland Browns, Tennessee Titans and the Washington Redskins.
@tennesseetitans

Tennessee Titans
#Titans
practice squad OL '06-'07. Another lost too soon...RT
@USC_Athletics
: Heartbreaking news about the all too soon death of Fred Matua
Several days before Matua's death, a Twitter account devoted to USC news, tweeted that the former Trojan had been hospitalized after suffering a heart attack but was expected to make a full recovery after surgery.