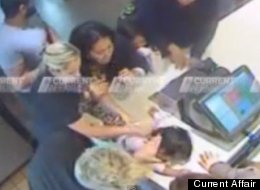 Closed circuit video captured the frantic efforts by workers at a McDonald's in Sydney, Australia, last month to save a 14-month-old girl as she choked on a chip.
Nevaeh had already turned blue when her parents, identified only as Tevita and Glory, rushed her to the counter of the fast-food restaurant.
"Save my baby, she's choking, she's not breathing," reportedly cried the mother.
Restaurant manager James Hatcher, two other employees and a customer who rushed from the drive-through line worked for nearly three minutes to dislodge the chip from the girl's windpipe. Emergency medical staff gave instructions by phone before paramedics could arrive.
Finally, after three excruciating minutes, the toddler began to breathe again on her own, reports the St. Marys Star.
Doctors at a hospital where Nevaeh was kept overnight before being released reportedly determined she had suffered from a seizure that prompted her to choke.
McDonald's later gave an award to the staff for putting their first aid training to good use.
2011's Top 10 Fast Food Chains (By Total U.S. Sales)
Although Chick-fil-A has recently found itself embroiled in social controversy, it managed to make the top ten in 2011.

Although KFC lost 275 locations last year, they still managed to remain in the top ten in 2011.

Pizza Hut came out on top in a study on ad effectiveness in 2011. An ad for the chain's Ultimate Stuffed Crust Pizza made consumers the hungriest.

With 115 new locations, Dunkin' Donuts had the second largest location growth in 2011 (beaten by Subway by an insane margin -- they opened 872 new locations).

Taco Bell's 2011 started out turbulently, with a well-publicized lawsuit surrounding the content of their beef. They counteracted the suit with (among other measures) full page ads in the New York Times defending their meat, managing to right the ship and have a great year -- even before the launch of this year's famous Doritos Loco Taco.

Burger King hopped on the avocado band wagon last year, which was only one of many changes the chain underwent, including the dethroning of their mascot, The King.

It seemed likely that Wendy's would dethrone Burger King to become the second biggest burger chain in the U.S. -- and it turns out, they totally did.

Starbucks closed the most locations of any of the chains in the top ten last year, shuttering 310 locations. In 2011 the chain also rolled out its insane, 31oz Trenta size.

Subway was recently crowned both America's favorite fast food restaurant and its biggest chain. Opening 872 new locations in 2011, their total number of U.S. locations rose to 24,722, nearly beating McDonald's and Starbucks combined.

Well, no surprise here, right? While no longer the largest fast food chain in America, McDonald's is surely the most successful -- their 2011 U.S. revenue beats Subway and Starbucks' totals combined. A recent American Consumer Satisfaction Index survey revealed that the chain is, however, at the bottom in terms of customer satisfaction, so McDonald's may not reign forever.