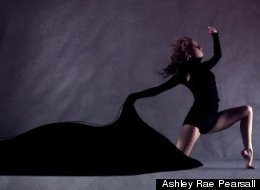 In 1952, legendary choreographer and dancer Merce Cunningham defined a dancer's ecstasy as "the possible gift of freedom, the exhilarating moment that this exposing of the bare energy can give us."
That idea resonates throughout motion graphics designer Ashley Rae Pearsall's short film "Embrace," which ends with Cunningham's lines. Created for Pearsall's MFA in computer art at SVA, the film uses a mixture of 2D motion graphics and live action footage of dancer Megan E. Martinez, to visualize the normally unseen work a dancer is doing. Not only are Martinez's physical efforts enhanced with the animation, the "creative struggles that are a necessary component of the artistic process" also get the treatment.
Check out Pearsall's film below, and be sure to let us know your thoughts in the comments section.
EMBRACE from Ashley Rae Pearsall on Vimeo.