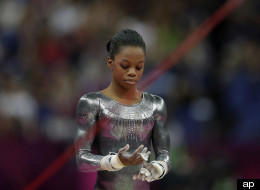 Gabby Douglas can't win them all.
Finishing last in the field of eight competitors in the women's uneven bars final, the U.S. gymnast couldn't add to her tally of two gold medals at the London Olympics.
Aliya Mustafina won the gold medal with a score of 16.133. The Russian gymnast was followed by Kexin He of China (15.933) and crowd favorite Elizabeth Tweddle (15.916) of Great Britain.
"I made a little mistake and I paid for it," said Douglas after the event, via Will Graves of The Associated Press. "You get toward the end of the Olympics and you get kind of drained."
The 16-year-old Douglas scored a 14.900 after a noticeable hang-up on her handstand.
Douglas entered the uneven bars final with the individual all-around gold medal and the women's team gold already secured.
CLICK HERE for complete results.
Douglas had previously performed on the uneven bars three times during the London Games, registering a higher score in all those attempts. Nicknamed the "Flying Squirrel" for her high-flying routines, Douglas scored 15.333 on the uneven bars in qualification, 15.200 in the team final and 15.733 in the individual all-around final en route to her gold medal.
Douglas has one remaining opportunity to add to her medal haul. She is scheduled to compete in the women's individual balance beam final on Tuesday.