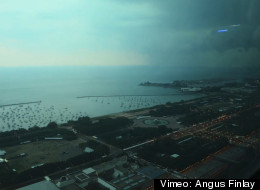 It turned out that the most dramatic, humbling experience of the massive Lollapalooza music festival had nothing to do with what transpired on stage over the festival's three days.
Rather, it was the beastly thunderstorm system that pounded downtown Chicago Saturday afternoon and forced the festival's evacuation for several hours that stole many a headline from the music itself.
A time-lapse video created by Angus Finlay and posted to the Chicago Reddit page captures the epic storm as it arrives at the city's Lake Michigan-adjacent downtown area and eventually dissipates, allowing music fans to return to a muddied Grant Park for more music, which included a highly anticipated headlining act from the Red Hot Chili Peppers.
The eighth annual (in Chicago) festival tied its previous attendance record of 270,000 over the weekend, the Chicago Tribune reports.
All photos below by Justin Barbin unless otherwise noted.