Based on a recent tweet, Rossee calls him "Bear." This pet nickname may be worth noting as Rossee is Phelps' current girlfriend according to reports by E! News and various outlets. E! cites an unnamed source in reporting on the relationship but Rossee's Twitter timeline is full of evidence that the two are close.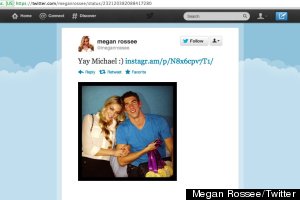 CLICK HERE for more from RadarOnline on how Rossee and Phelps met.
A brief look at Phelps' Twitter timeline during the Olympics isn't as helpful as Rossee's in trying to confirm the relationship. He retweets and mentions several fellow Olympians, professional athletes and various prominent person ranging from rapper Lil Wayne to President Obama. There isn't a recent mention of Rossee.
At a quick glance, none of the other people who appear in his timeline refer to Phelps as "bear."
ALSO ON HUFFPOST:
Michael Phelps Through The Years
SUBSCRIBE TO & FOLLOW THE MORNING EMAIL
The Morning Email helps you start your workday with everything you need to know: breaking news, entertainment and a dash of fun. Learn more