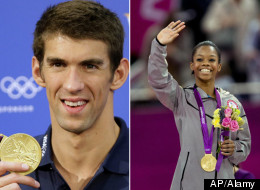 There's no event quite like the Olympics for bringing a country together, and so far the London 2012 games have been a great excuse for patriotism on both sides of the pond.
With America currently beating the UK in total medals won thus far this year, there's been plenty to cheer about -- and just about everyone, from the cast of "The Vampire Diaries" right through to the President of the United States, has been vocal in their support of Team USA.
Whether it's Justin Bieber recording a video for swimmer Missy Franklin or Ian Somerhalder declaring his appreciation for Gabby Douglas, we've rounded up some of the most memorable messages of support from the famous fans of our current Olympic heroes. (We're sure there'll be even more to come in the next few days.)
Celebrities Congratulate U.S. Olympians
Women's individual all-around gymnastics champion Gabby Douglas is apparently a big fan of The CW's "Vampire Diaries," and it turns out that they're big fans of her too -- the cast recorded this video to congratulate her on her London 2012 win.

The "Vampire Diaries" stars weren't the only ones bitten by the gymnastics bug -- other famous fans include Lady Gaga ...

Taylor Swift ...

Pink ...

And even President Obama.

After 17-year-old Missy Franklin won her first individual gold medal in the 100-meter backstroke, she received a tweet that most teenage girls would kill for -- and later a video message from the Bieb himself.

"American Idol" winner Scotty McCreery is no stranger to facing the spotlight at a young age, so it's fitting that he reached out to Missy Franklin after her win.

Basketball icon Shaquille O'Neal isn't all about the court -- he recently took the time to congratulate Michael Phelps on his record-breaking 22 medals in swimming.

Rapper Lil Wayne expressed his appreciation for Ryan Lochte and the rest of the swimmers, as well as Gabby Douglas.

"Chuck" star Zachary Levi -- currently in the UK to film "Thor 2" -- had a not-quite-front-row seat to watch Justin Gatlin score bronze in the men's 100m.