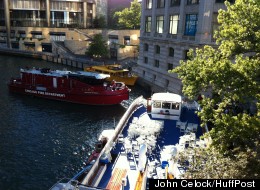 At least nine people were hospitalized Monday evening when a Wendella Boat Tours boat crashed into a dock near the Michigan Avenue bridge on the Chicago River in downtown Chicago.
The two-level boat lost power when it was pulling over and attempting to dock following an architecture tour. It proceeded to plow into a dock in the 400 block of North Michigan Avenue around 5:35 p.m., the Chicago Sun-Times reports.
Of the about 150 passengers aboard the boat, two people were taken in fair-to-serious condition and seven in good condition to area hospitals, according to the Chicago Tribune. Eleven others refused treatment at the scene.
The passengers' injuries appeared minor, according to ABC Chicago.
Wendella suspended their boat tours Monday after the crash, the Tribune reports.