Even if you can't name the inventor of the World Wide Web (It's Tim Berners-Lee!), you'll probably want to celebrate one of the information network's most important milestones. On August 6, 1991 -- 21 years ago -- Berners-Lee published the world's first website from a lab in the Swiss Alps.
So Happy 21st Birthday, WWW! Have a drink on us. As our friends over at HuffPost UK point out, the world's first website can still be visited today, more than two decades after its creation.
The site, originally found at the clunky URL "http://info.cern.ch/hypertext/WWW/TheProject.html," was updated frequently after launching; therefore, images of its earliest versions were never saved. Nevertheless, a later copy from 1992 is still preserved and welcoming visitors.
The bare-bones website was created, appropriately, to explain the World Wide Web to newcomers. "The WorldWideWeb (W3) is a wide-area hypermedia information retrieval initiative aiming to give universal access to a large universe of documents," the site reads, going on to explain how others can create their own webpages.
You can see what the site looks like below (or just click the link here).

Berners-Lee first proposed his idea for a worldwide network of computers sharing information in 1989, while he was working at the European Organization for Nuclear Research (CERN) in Geneva, Switzerland. According CERN's history of the first website, it was written on a NeXT computer (pictured below), made by the company Steve Jobs founded after his ouster from Apple back in 1985.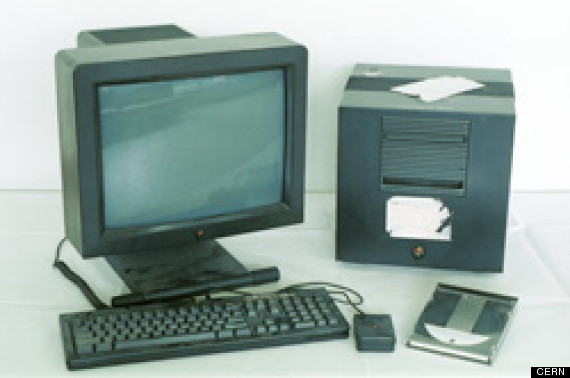 The NeXT computer used by Tim Berners-Lee in 1990 to create the world's first website.
Berners-Lee's site went live in 1991, and was accessed by a decidedly small audience of fellow CERN researchers. It wasn't until 1993, when web browser Mosaic was released, that the Web took off, as Wired explained last year.
During the opening ceremony of the 2012 Olympics, the inventor of the World Wide Web was honored with a musical number and an appearance in London's Olympic Stadium. However, Meredith Viera, commentating for NBC in the U.S., admitted she didn't know who the British Internet pioneer was. (Kind of embarrassing, no?) But maybe she'll take a moment to honor the first website, now that she knows.
Earlier on HuffPost:
Loading Slideshow
Flash-Matic

While other original tech devices look somewhat like their modern-day counterparts, the first wireless remote control is unrecognizable next to its compact and complex successors we use today. <a href="http://www.huffingtonpost.com/2012/05/22/flash-matic-remote-eugene-polley_n_1536620.html" target="_hplink">Created by Eugene Polley</a>, the Flash-Matic dates back to 1955 when a "beam of magic light" allowed users to change the channel on their boxsets.

Apple I

Handmade by Apple co-founder Steve Wozniak, Apple's first computer is now an expensive antique. About 50 of the Apple I computers have survived through the years, while only six are said to remain in working condition. In 1976, the model sold for $666.66, but now the iconic piece of computer history fetches <a href="http://www.huffingtonpost.com/2012/06/02/apple-i-auction-sothebys_n_1562894.html" target="_hplink">upwards of $120,000 at auction</a>.

Floppy Disk

How did the world get by before flash drives and cloud-based services like Dropbox and Google Drive? With floppy disks, of course -- the original flash drive. Introduced to the market by IBM in 1971, the floppy disk was <a href="http://inventors.about.com/od/computersandinternet/a/FloppyDisk.htm" target="_hplink">named for its flexibility</a>. Floppies measured 8 inches in size when they debuted; the devices would soon be manufactured in 5.25-inch and eventually in 3.5-inch sizes. <em><strong>CORRECTION</strong></em>: The original version of this slide misstated the size of IBM's first floppy disks. They were 8 inches, not 12 inches.

Rotary Telephone

Invented in 1891, the rotary telephone required callers to use finger holes to <a href="http://www.youtube.com/watch?v=cXxP3eQiTQI" target="_hplink">spin a circular dial</a> in order to input each individual number. The early telephone used electrical pulses to make calls. It was eventually replaced by a phone with numbered buttons that used <a href="http://www.arctos.com/dial/" target="_hplink">touch tone dialing</a>. (<a href="http://www.flickr.com/photos/infrogmation/4668425919/" target="_hplink">Image via Flickr</a>, Infrogmation of New Orleans)

Instant Camera

Although Polaroid is still kicking, its original cameras are hard to come by. The camera company branded itself as the premier producer of the instant camera, beginning with Polaroid co-founder <a href="http://www.polaroid.com/en/press/2010/5/5/mit-museum-receives-70-years-polaroid-history" target="_hplink">Edwin Land's first invention</a> in 1948.

Typewriter

Though they're still used on "Mad Men," and by writers chasing another era, the typewriter (<a href="http://www.mit.edu/~jcb/Dvorak/history.html" target="_hplink">a product of the 1800s</a>) has become obsolete in the age of the personal computer.

Portable Cassette Player

Time was, everyone you knew owned a Sony <a href="http://www.walkmancentral.com/" target="_hplink">Walkman or similar device</a>. The comparatively compact handhelds changed the way people listened to music in the 1980s. Before portable cassette players, there was no convenient way for music lovers to <a href="http://inventors.about.com/od/wstartinventions/a/Walkman.htm" target="_hplink">get their audio fix on the go</a>. (<a href="http://www.flickr.com/photos/27485954@N07/4941379904/" target="_hplink">Image via Flickr</a>) <em>Editor's note: The first Walkman was <a href="http://www.time.com/time/nation/article/0,8599,1907884,00.html" target="_hplink">introduced by Sony in 1979</a>.</em>

First Consumer Cell Phone

No tech nostalgia collection is complete without this old-school mobile phone. <a href="http://www.msnbc.msn.com/id/7432915/ns/technology_and_science-wireless/t/first-cell-phone-true-brick/#.T9DWOeJYvio" target="_hplink">Designed by Rudy Krolopp and his team</a>, the Motorola DynaTAC 8000X or "brick," as it has often been called, hit the market in 1984 to the delight of chatty Kathys everywhere, despite its gargantuan $3,995 price tag. The video (above) is one of Motorola's DynaTAC ads from the '80s.