WHO: "Twilight" actress Ashley Greene
WHAT: The Florida-native stepped out in style with a pair of blue skinny jeans and nude stilettos that could take an eye out. She added interest to a plain bottom half with a loose fitting printed tee, but kept the look casual with a pair of oversized black sunnies and her signature minimal makeup. The ensemble was topped off with a warm chestnut carryall that picked up the red hues in her wavy hair, tying the outfit together from head to toe.
WHERE: Greene was out seen going out to lunch in Los Angeles on August 3rd.
Click here to see Ashley Greene's beauty evolution.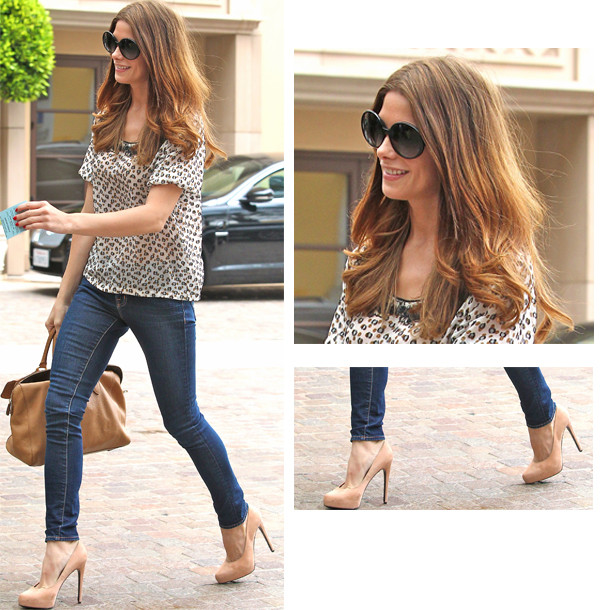 Fame Flynet
Shop a similar look below, and check out more of our Look Of The Day picks.
Loading Slideshow
Dusen Dusen Silk Bug Tank, $99

<a href="http://www.urbanoutfitters.com/urban/catalog/productdetail.jsp?id=24598708&cm_mmc=Performics-_-Affiliates-_-ShopStyle.com-_-Primary&clickid=0004c69c1699e1bf0ae07091f8d83bfd" target="_hplink">Urbanoutfitters.com</a>

Current/Elliott Denim Pants, $138

<a href="http://www.yoox.com/item.asp?cod10=42259459&tp=11227&tskay=3FD17CD7" target="_hplink">Yoox.com</a>

<a href="http://www.amazon.com/dp/B0079UUYSM/ref=asc_df_B0079UUYSM2122416?smid=ATVPDKIKX0DER&linkCode=asn&creative=395093&creativeASIN=B0079UUYSM&tag=wwwshopstylec-20&ascsubtag=525424016" target="_hplink">Amazon.com</a>

ModCloth Mahogany Muse Bag, $64

<a href="http://www.modcloth.com/shop/handbags/mahogany-muse-bag?ref=1&utm_medium=CJaffiliate&utm_campaign=CJ&utm_source=CJ" target="_hplink">Modcloth.com</a>

Olsenboye Oval Sunglasses, $7

<a href="http://www.jcpenney.com/dotcom/juniors-guys/view-all-juniors/brands/olsenboye/olsenboye%25e2%2584%25a2-oval-sunglasses/prod.jump?ppId=1df8e69" target="_hplink">Jcpenney.com</a>
Want more? Be sure to check out Stylelist on Twitter, Facebook, Tumblr and Pinterest.