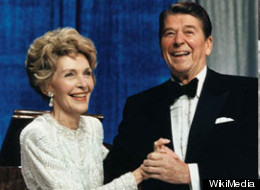 Before blogs and email, most people wrote love letters to their significant others. While digital devotions may last forever, they are more ephemeral, whereas letters -- tactile, often beautiful -- stand the test of time.
Some -- including ones written by everyone from presidents to painters -- have lasted long enough for the next generation to read.
Click through the slideshow to read excerpts from touching love notes from celebrities to their spouses, and you might even be inspired to pen your own love letter -- we were!
Love Letters From Married Celebrities
In a Christmas letter to Nancy: "We are so much "one" that you are as vital to me as my own heart--with one exception; you could never be replaced with a transplant. Whatever I treasure and enjoy--this home, our ranch, the sight of the sea--all would be without meaning if I didn't have you. I live in a permanent Christmas because God gave me you. As I write this, you are hurrying by--back and forth doing those things only you can do and I get a feeling of warm happiness just watching you. That's why I can't pass you or let you pass me without reaching to touch you. (Except now or you would see what I'm doing.)" Via NBCnews.com

Pat wrote this letter to wife Marie "just in case" he didn't come home. Pat had only been in Afghanistan three weeks when he died in April 2004. "It's difficult to summarize ten years together, my love for you, my hopes for your future, and pretend to be dead all at the same time . . . I simply can not put all this into words, I'm not ready, willing or able...Through the years I've asked a great deal of you, therefore it should surprise you little that I have another favor to ask. I ask that you live." Via "The Today Show."

The late "Law and Order" actor Jerry Orbach wrote poems like this for his wife, Elaine, every morning before he went to work: "I love you more in every way, That's why I wrote this poem. So have yourself a lovely day, Your faithful Jeroem." From Elaine's book, "Remember How I Love You"

President Nixon met his wife when they were both auditioning for "The Dark Tower" in 1938. "Every day and every night I want to see you and be with you. Yet I have no feeling of selfish ownership or jealousy. Let's go for a long ride Sunday; let's go to the mountains weekends; let's read books in front of fires; most of all, let's really grow together and find the happiness we know is ours." Via CBS News

Frida married fellow painter Diego Rivera twice -- the second time after being divorced for a year: "Diego, my love, Remember that once you finish the fresco we will be together forever once and for all, without arguments or anything, only to love one another. Behave yourself and do everything that Emmy Lou tells you. I adore you more than ever. Your girl, Frida (Write me)" Via Fast Company Design

Gerald Ford and his children penned this note to wife Betty just after she was diagnosed with breast cancer in 1974: "Dearest Mom No written words can adequately express our deep, deep love. We know how great you are and we, the children and Dad, will try to be as strong as you. Our Faith in you and God will sustain us. Our total love for you is everlasting. We will be at your side with our love for a wonderful Mom. xxxx Jerry" Via Fast Company Design

Johnny Cash's second wife and fellow crooner June helped him turn his life around from drug and alcohol abuse when they married in 1968, and they remained married until her death in 2003: "Hey June, That's really nice June. You've got a way with words and a way with me as well. The fire and excitement may be gone now that we don't go out there and sing them anymore, but the ring of fire still burns around you and I, keeping our love hotter than a pepper sprout. Love John" Via Fast Company Design
Keep in touch! Check out HuffPost Weddings on Facebook, Twitter and Pinterest.