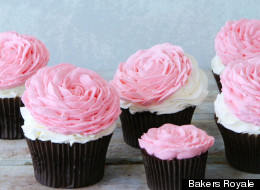 If the sight of a cupcake makes you groan, just know that you're not alone. There was a time when we adored cupcakes, when we were excited to get our hands on one. The magic of these little cakes carried over from childhood birthday parties well into our adult lives. But that was before cupcake shops became just as commonplace as Starbucks.
Now, we're just a little sick of seeing cupcakes and all their wild flavors and decorations. Once they became topped with bacon and chicken wings, we knew it had gone too far. But still, when we get our hands on a good cupcake, it's hard to deny how good they really are -- and that somewhere inside, we still (and probably always will) love these tiny cakes.
Want to read more from HuffPost Taste? Follow us on Twitter, Facebook, Pinterest and Tumblr.
Get the Dark Chocolate Fudge Merlot Cupcakes recipe by How Sweet It Is

Get the Orange Vanilla Bean Cupcakes recipe by Annie's Eats

Get the Sugared Almond Cupcakes with Chocolate Frosting recipe by How Sweet It Is

Get the Banana Bourbon Cupcakes recipe by How Sweet It Is

Get the Rose Cupcakes recipe by Bakers Royale

Get the Chocolate Chip Cookie Dough Cupcakes recipe by Annie's Eats

Get the Pumpkin S'mores Cupcakes recipe by How Sweet It Is

Get the Toffee Crunch Cupcake recipe by Bakers Royale

Get the Black Forest Cupcakes recipe by Annie's Eats

Get the Salted Dark Chocolate Cupcakes recipe by Gimme Some Oven

Get the Peanut Butter Cupcakes with a Marshmallow Swirl recipe by How Sweet It Is

Get the Turtle Cupcakes recipe by Annie's Eats

Get the Eggnog Cupcakes with Spiced Rum recipe by Bakers Royale

Get the Fauxstess Cupcakes recipe by Annie's Eats

Get the Peanut Butter and Jelly Cupcakes recipe by Annie's Eats

Get the Caramel Cappucino Royale Cupcakes recipe by Bakers Royale

Get the Coconut Tres Leches Cupcakes recipe by How Sweet It Is

Get the Brownie Banana Bread Cupcakes recipe by How Sweet It Is

Get the Mint Chocolate Cupcakes recipe by How Sweet It Is

Get the Homemade Funfetti Cupcakes recipe by How Sweet It Is

Get the Spiced Butternut Squash Cupcakes recipe by Gimme Some Oven

Get the Vanilla Chai Cupcakes recipe by Gimme Some Oven

Get the Blackberry Cupcakes recipe by Call me Cupcake

Get the Nutella Cupcakes recipe by My Baking Addiction

Get the Blood Orange Cupcakes recipe by Cafe Johnsonia

Get the S'mores Cupcakes recipe by Pastry Affair

Get the Buttered Rum Cupcakes recipe by Adventures in Cooking

Get the Chocolate Cupcakes with Cherry Mascarpone Frosting recipe by The Little Red House

Get the Salted Caramel Cupcakes recipe by Pass The Sushi

Get the Chocolate Ganache Cupcakes recipe by Faux Martha

Get the Banana Cupcakes with Cinnamon Cream Cheese Buttercream recipe by Your Cup of Cake

Get the Vanilla Cupcakes with Vanilla Buttercream recipe by Jenny Steffens Hobick

Get the S'Mores Cupcakes recipe

Get the Brownie Batter Chocolate Fudge Cupcakes recipe by Kevin and Amanda

Get the Midsummer Wedding Cupcakes recipe

Get the Vanilla Cupcakes with Lavender recipe

Get the Golden Gluten-Free Cupcakes recipe

Get the Blueberry Cupcakes recipe

Get the Take 5 Carrot Cupcakes recipe

Get the Ambrosia Cupcakes recipe

Get the Ginger Island Cupcakes recipe

Get the Chocolate Espresso Cupcakes with Cocoa Whipped Cream recipe

Get the Pink Almond Cupcakes recipe

Get the Apple Cupcakes with Cinnamon-Marshmallow Frosting recipe

Get the Devil's Food Cupcakes with Coconut Pecan Frosting recipe

Get the Wedding Cupcakes recipe

Get the Vanilla Cupcakes with Chocolate Frosting recipe

Get the Red Velvet Cupcakes recipe Photo from rottnapples, Flickr.

Get the Raspberry-Swirl Cupcakes recipe

Get the Monkey See Monkey Do Cupcakes recipe