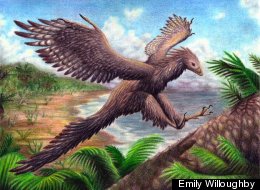 When you think of dinosaurs, "cute" might not be the first word that comes to mind. That is, until you see the illustrations of artist Emily Willoughby. Her depiction of a baby megalosauroid dino was recently dubbed "the cutest dinosaur illustration ever" by io9.
"I was in love with dinosaurs as much as anyone as a kid," Willoughby, 25, told The Huffington Post in an email. "But it wasn't until the feathered dinosaur discoveries started cropping up in the late '90s and early '00s that it became more of an artistic passion. I decided to specialize in dinosaurs because their relationship to birds was so interesting to me from a scientific standpoint."
Willoughby, who lives in Belle Mead, N.J., said that before making her illustrations she studies new literature on dinosaurs and their behaviors.
"These behaviors are often very bird-like in nature," Willoughby said. "These are the most fun to illustrate, too. Some examples of behavioral artwork from my gallery include 'Deinonychus Prey Restraint' and 'Saurornitholestes.'"
Check out Willoughby's illustrations below.
A baby megalosauroid Sciurumimus is perched on a rock by the Bavarian Sea in Germany.

"My favorite of my work is probably my 'Liaoning Scene' just for the sheer amount of time, work and detail I put into it," artist Emily Willoughby told The Huffington Post. But she added that the flying microraptor dinos should have been painted glossy black, according to new research.

A bird-like dromaeosaur leaves footprints in the ground. The name Dromaeosauridae means "running lizards."

The Utahraptor ostrommaysorum is the largest known member of the Dromaeosauridae family.

Dromaeosaurids were feathered carnivores that lived in the Cretaceous Period.

The carnivorous Saurornitholestes finds its prey by digging in burrows.

Even though this troodontid's name "Mei long" means "sleeping dragon," the duck-sized dino is thought to have sometimes dashed through the forest.

The colors of Anchiornis's feathers are known from fossils--and its name means "near bird."

Anchiornis are proposed to serve as a link between modern-day birds and non-avian dinosaurs.

The Talos sampsoni takes a rest to tend to an injured toe.

The Jinfengopteryx elegans perches on a fallen log, eying a beetle hungrily.

The Epidexipteryx hui searches for grubs to eat.

The Archaeopteryx was once widely considered the earliest known bird. Scientists now believe the feathered animal was a dinosaur.

The bird-like Caudipteryx zoui lived in the early Cretaceous Period.

The Sinosauropteryx prima ran through the forests of the early Cretaceous period.

The Sinornithosaurus millenii pauses for a drink.