We love it when Latina Magazine puts Afro-Latinas on their cover, so needless to say we were thrilled this morning when we saw that Rosario Dawson (a gorgeous Afro-Latina!) is gracing the cover of the magazine's September 2012 issue.
In the issue, Rosario dishes to Latina on playing Dolores Huerta in an upcoming biopic, her thoughts on motherhood, and her activism with the non-profit organization, Voto Latino.
And while the issue wont be available on newsstands until August 14th, you wont have to wait until then to see the stunning photos of Rosario in the issue, because The Huffington Post has obtained these exclusive images from Rosario's sexy cover shoot! Check out the gorgeous photos below of Rosario in Max Mara and be sure to also check out our list of 25 Afro-Latinas conquering Hollywood!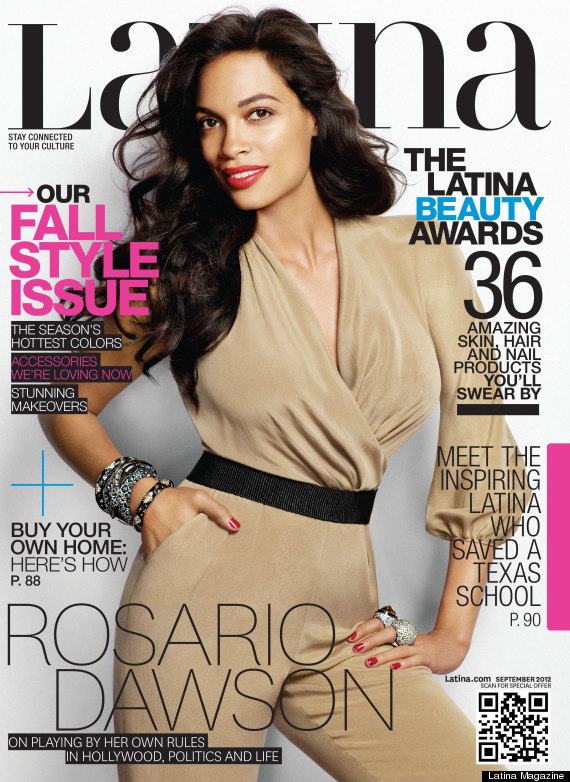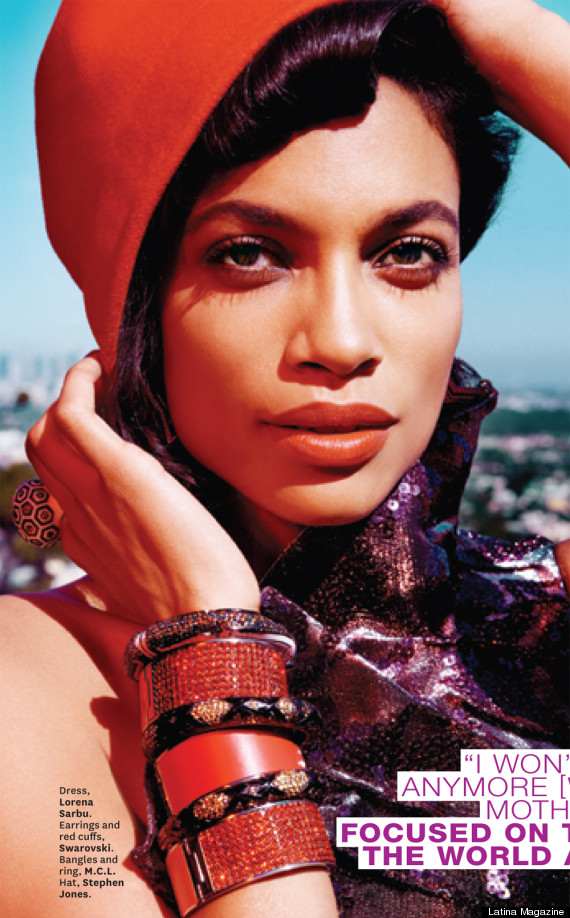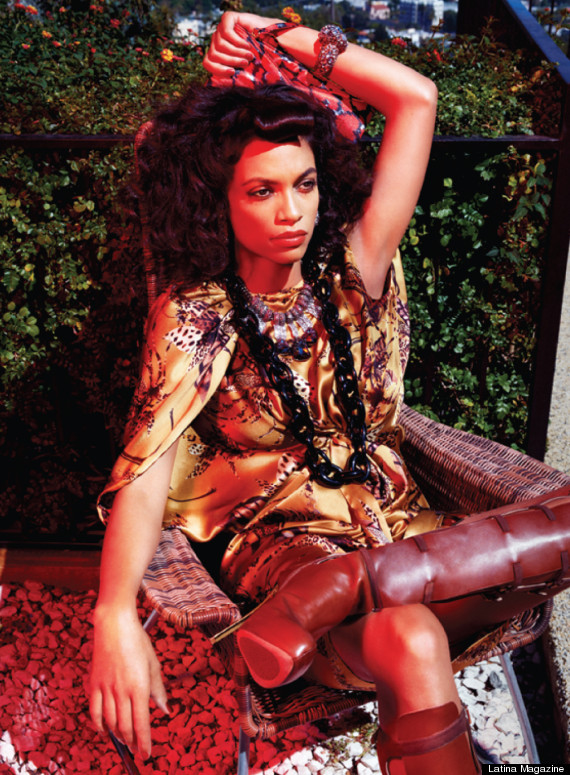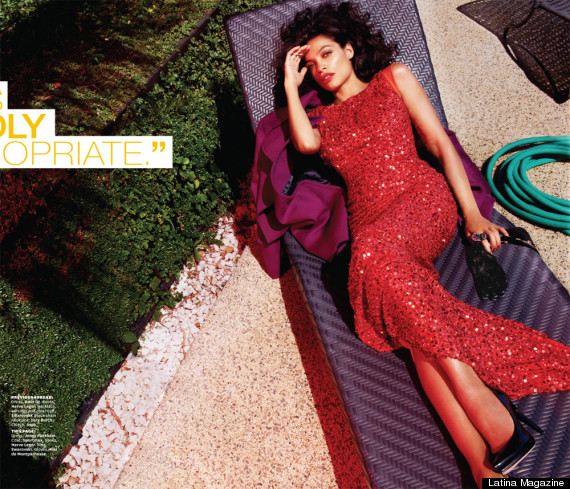 25 AFRO-LATINAS CONQUERING HOLLYWOOD!
Afro-Latinas Conquering Hollywood! (PHOTOS)
What we love most about Evelyn Lozada isn't her ability to deliver -- it's that Lozada always keeps it real. She hasn't had the easiest life--she got pregnant at a young age and has admitted to being on welfare and to being cheated on repeatedly by her former boyfriend, Antoine Walker. But Evelyn wants to send the message to young moms that they too can dream big.

The Afro-Cuban and Puerto Rican actress has worked with great actors (Will Smith, Denzel Washington, Phillip Seymour Hoffman), great directors (Oliver Stone, Spike Lee, Robert Rodriguez)--and she's played iconic roles (Mimi in the movie-musical Rent; Gail in Sin City). But when she's not acting, Dawson is working hard on Voto Latino, the non-profit voter registration organization she co-founded in 2004. Why? Because Rosario knows just how important it is to mobilize young Latinos to hit the polls!

She's the star of the highest grossing motion picture of all time, James Cameron's "Avatar" AND she's a proud Afro-Latina! "As a Latina, I think we should be very proud of our heritage," the half-Dominican, half-Puerto Rican beauty has said. "We tend to look for European roots and reject the indigenous and the African, and that's disgusting. Being Latin is being a mix of everything. I want my people not to be insecure, and to adore what we are because it's beautiful." Amen, Zoe!

Best known as the runner-up on the third season of the hit reality competition America's Next Top Model (2004), Yaya Dacosta has lately been making a name for herself as a serious Hollywood actress. The multi-ethnic Dacosta (of Brazilian, West African, and Native American descent), was immensely likeable as Tanya, Mark Ruffalo's sexy, foul-mouthed lover in last year's Oscar-nominated film The Kids Are all Right, and this fall, she starred opposite Justin Timberlake and Amanda Seyfried in the sci-fi thriller, In Time. Dacosta isn't just another pretty face--she's also highly intelligent and has a degree in African Studies and International Relations from Brown University.

Best known for her role as Dionne Marie Davenport, Cher's (Alicia Silversone) self-absorbed best friend in the hit 1995 comedy, "Clueless," Dash is a talented actress who recently starred in the hit VH1 TV show, "Single Ladies." She's of Bajan, African American and Mexican descent.

A current spokesmodel for Lancome, Dominican model Arlenis Sosa is on a first-name basis with everyone from Oscar de la Renta to Anna Wintour. She has also walked for some of the most prestigious designers and fashion houses in the world. But what we love most about Arlenis is the way she supports her fellow Afro-Latinas.
"Models need to stick together, especially black models, whom people are always accusing of being too competitive," she said in 2010. "I never think about things in terms of someone taking a job away from me or me taking it away from them. If you get it, I'm happy. If I get it, I'm happy. The important thing is that black models are doing it big now."

The Puerto Rican actress, who is known for her roles in "New York Undercover," "Oz," and "I Like It Like That," is still just one of a handful of women representing Afro-Latinas on television, as Captain Maria Laguerta on Showtime's hit serial killer drama, "Dexter."

She was Ashley Banks, the little girl with the infectious smile on the 90s sitcom, The Fresh Prince of Bel-Air, and now, Tatyana Ali is an inspiring Afro-Latina who's all grown up. After earning a bachelor's degree in political science from Harvard University, the half-Panamanian actress pulled double duty as the star and executive producer of two TV shows: the BET series,Buppies (2009), and Love That Girl, a new series which airs on TV One.

The talented actress is best known for her role as the fiery Latina Karen Krantz (AKA Miss New York) in "Ms. Congeniality"(2000), and for her scene-stealing work in the hit rom-com, "The Best Man" (1999). But few people know that Melissa De Sousa is Panamanian and black.

The former star of the CW's hit show "Hellcats," Heather Hemmens, who's half-Costa Rican, says people don't believe she's half-Latina. "[People don't immediately think of me as Latina] because my mother is a black Costa Rican, so I have this skin tone that's kind of unidentifiable," explains Hemmens. But the proud Afro-Latina says being unidentifiable has gotten her nondescript roles. "It's great because as an actress, it gives me a versatility to play a black woman or play a Latina woman. I've even played Egyptian and Indian American. With the right hair and makeup," she says. "I've actually got a pretty good road going here where I can play a lot of things."

She plays several instruments masterfully--including bass, the oboe, the violin and the clarinet. She also sings in three languages and has played for President Barack Obama and First Lady, Michelle Obama at the White House. And, she's part-Latina! "My mom is Welsh, Hispanic, and Native American, and my father is black," says the Afro-Latina Spalding. We love her for breaking the mold in more ways than one.

The gorgeous Afro-Latina model (who hails from the small Puerto Rican town of Hatillo) has walked the runway for everyone from Marc Jacobs to Gucci. Knowing full well that there are millions of beautiful Afro-Latinas in the world, Estée Lauder Global Brand President Jane Hertzmark explained why they selected Joan to be their new face. "We are thrilled to introduce Joan to women around the world. She truly reflects Estée Lauder's modern vision of global beauty." We couldn't agree more!

This talented Afro-Cubana has had starring roles on several sci-fi TV shows including, "FlashForward," "Alias," "Serenity," "Dark Angel," and "Firely"-and we love that Gina always plays strong, confident women who aren't afraid to challenge the status quo. Torres also appeared in two of the Matrix films ("The Matrix Reloaded" and "The Matrix Revolutions"). It was during filming The Matrix Reloadedthat the Afro-Latina star met her now husband, Laurence Fishburne

Daphne starred as the original Mimi in the ground breaking musical "Rent." She also starred in "The House of Bernarda Alba" at the Lincoln Center and Les Misérables on Broadway and has two Tony Award nominations to her credit; one for her role in "Rent" and the other for her performance as Conchita in "Anna in the Tropics."

The half Afro-Cuban and half-Irish journalist explores mixed-race heritage for a living. O'Brien reported on CNN's Latino in America, a wide-ranging look at Latinos living in America and how they're reshaping the country--and Black in America, a special about the state of Black America 40 years after the assassination of Dr. Martin Luther King Jr. She currently hosts the CNN morning show, "Starting Point."

Britney Spears' Latina protégé Sabi is best known for the song "You Make Me Feel"--which she recorded with the synth-pop band, Cobra Starship earlier this year. The daughter of a Salvadorian mother and an African American father, Sabi is a style-siren with beautiful curly hair, gorgeous skin, massive sex appeal and undeniable talent as a songwriter, singer, and rapper. We can't wait to see what she has in store for us in 2012!

Best known for her role as Cheerio Santana Lopez on FOX's hit show "Glee," Naya Rivera is one sexy Afro-Latina! The 24-year-old actress is of Puerto Rican, African American and German heritage, and she's one of the few Afro-Latinas playing a Lesbian on television. Can you say "badass?"

For seven years, this gorgeous Afro-Latina hosted BET's hit show "106 & Park." The driven TV personality also has her own self-titled, nationally syndicated radio show called "Rocsi on the Radio," and she just completed filming on her first feature film, "The Great Divide."

Christina Milian is best known for her role in the movie "Love Don't Cost A Thing" (2003), and hit singles like "AM to PM" and "Dip It Low," but she's also a strong Afro-Latina who survived a very public breakup from her husband The-Dream with grace and class and stayed strong to raise her daughter, Violet. The single mom is currently a Social Media Correspondent for NBC's hit singing competition, "The Voice."

There's never been a more endearing relationship between a Latina TV character and an African American TV character, than the relationship between Carla Espinoza (Judy Reyes) and Turk (Donald Faison) on the long-running comedy, Scrubs. Much of the humor on the show stemmed from Turk's inability to understand Carla's Dominican culture -- but in real life, Reyes--who's Dominican and Black -- loves both sides of her equally. And we love her!

Who isn't obsessed with the part-Irish, part-African American (and part-Venezuelan) singer? We can't wait to see Mimi judge "American Idol" this fall!

The "American Pie Reunion" star is hands down one of the sexiest actresses in Hollywood! And although she's best known for her roles on "Heroes" and 'Entourage," if you ask us, Dania's most important role is her role as the face of Covergirl Cosmetics--because in that role, she inspires other young Afro-Latinas to embrace their beauty and reach for their dreams.

You might remember Syesha Mercado from "American Idol's" seventh season (she finished third behind David Archuleta and David Cook!), but we know and love the half-Puerto Rican singer as a proud Afro-Latina!

In 2011, the former MTV VJ and reality star (VH1's "La La's Full Court Life"), launched a cosmetics line made specifically for African American and Latin women. La La, who's married to NBA superstar Carmelo Anthony, is half-black and half-Puerto Rican.

Since starring as Tina in Spike Lee's breakthrough film, "Do the Right Thing," Rosie has campaigned tirelessly on issues such as HIV/AIDS awareness, Puerto Rican rights and education.