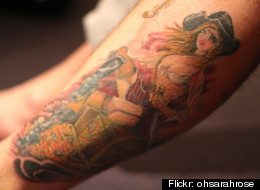 Job-seekers all over the world are finding that their tats may be costing them a job opportunity.
The Takasu Clinic, which has cosmetic surgery centers in Tokyo, Osaka, and Nagoya, Japan, reported a 20 percent boost in first-time tattoo removal patients between April and June from the same time last year, according to the Japan Times (h/t the Daily Mail). Recent graduates seeking their first jobs made up a large segment of the new patients, clinic officials told the paper.
The boost comes shortly after Toru Hashimoto, the mayor of one of the largest cities in Japan, Osaka, started cracking down on tattooed government workers. The city asked its employees about their body art following an incident in which a city employees tattoos scared children at a welfare center, according to a separate Japan Times article.
"If they want to have tattoos," Hashimoto said, "they should quit working for the city and go to the private sector."
In Japan, tattoos can be taken as a sign of membership in the Yakuza organized crime ring. Because of that, public baths, sports clubs and other venues often refuse entry to people with tattoos, according to the Guardian.
Yet Japan isn't the only place where tattooed job-seekers may have trouble getting work. The New York-based Strive, a job-training organization, started giving its clients lessons in covering their tattoos with makeup because previous clients were often denied jobs based on their tattoos, according The New York Times.
And laser tattoo removal across the country has seen a 32 percent boost over the past year, according to data from the Patients Guide cited by ABC News. Like in Japan, many of the patients are recent college graduates looking for a job in a tight market, Jen Mundt of Delete Tattoo Removal in Phoenix told ABC.
But even workers with tattoos that already have a job can be at risk. A former Starbucks employee sued the coffee chain in 2010, claiming he was fired for having tattoos, even though he had tattoos when he was initially hired, according to AOL Daily Finance.
Of course, there are other, stranger things that can get someone fired. Below are just some of the ways:
Weird Reasons That People Get Fired
In 2009, a female Dutch McDonalds employee was fired after she gave a colleague a cheeseburger instead of the cheaper hamburger that had been paid for, The Telegraph reports. A Dutch court ruled that the firing was too severe a punishment and ordered McDonald's to pay the ex-employee the full salary for what were the remaining five-months on her contract, as well as legal fees.

Stephanie Cannon was fired from her reception job at the Frauenshuh Cancer Center of Park Nicollet Health Services on the grounds that she smelled like smoke at work, KSTP-TV reports. Cannon is a regular, pack-a-day smoker who told the local ABC affiliate that she never brought her habit with her to work.

Home Depot fired Judy Henderson in 2010 after she told the company that she would extend her sick leave because of a cancerous tumor. The company agreed to pay $100,000 to Henderson, who had worked at Home Depot since 1997.

Wells Fargo fired Richard Eggers from his job of nearly 7 years in July after discovering that he was caught putting a cardboard cutout of a dime in a laundromat washing machine nearly 50 years ago.

Former Tuesday Morning CEO Kathleen Mason claimed that she was fired from her position after she disclosed to the company's board that she has cancer. One board member even allegedly made fun of Ms. Mason's wig. Her charges are being taken to court as she sues her former employers for damages and reinstatement.

Philadelphia Eagles stadium operations worker Dan Leone was fired after he updated his Facebook status criticizing Eagles management for trading Brian Dawkins in 2009, CNET reported. Mr. Leone allegedly posted this: "Dan is ******* devastated about Dawkins signing with Denver...Dam Eagles are Retarded."

In 2007, New Zealand resident Vicki Walker was fired from her job for sending emails in bold, red-underlined all-caps fonts, Fox News reports. Walker was laterawarded $17,000 for wrongful termination.

Barista Christopher Cristwell was fired by Starbucks after he took his pent-up anger out on Youtube, The Daily Mail reported. Known as "The Starbucks Rant Song," Mr. Cristwell told his internet viewing audience that cappucino lovers were "the worst of all." A spokesman for Starbucks stated: 'While Christopher was expressing his own views in the video, the disparaging remarks about our customers and company are unacceptable and out of line with our commitment to our customers and partners (employees).'

Ronald Kratz II was fired from his job as a parts sorter after his employer determine that it interfered with his job performance, Fox News reports. Following his dismissal, Katz filed a complaint with the Equal Employment Opportunities Commission and lost over 300 pounds.

Russian newsreader Tatyana Limanova was let go after she gave President Obama the finger on live television, The Telegraph reports. Limanova claims that the gesture was just a misunderstanding rather than an insult towards the leader of the free world.