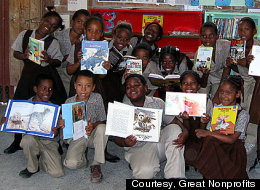 Local nonprofits across the country are doing their part to help families in need. And at HuffPost Impact, we'd like to recognize the little guys making a big difference.
As our fifth installment of the "Top Nonprofit Of The Month" contest, in collaboration with Greatnonprofits.org, we're showcasing 10 outstanding, local family nonprofits from around the country.
Check out the personal testimonies from people who have witnessed these organizations' benevolent efforts, and cast your vote for the nonprofit you think is doing the most inspiring work.
INSTRUCTIONS: To vote for your top pick in the slideshow below, just allocate stars to the nonprofits you think do the greatest work. The organization that gets the most stars wins!
VOTE: Top Local Nonprofit Of The Month!
Create Now has helped thousands of troubled youth find a new, productive path for themselves through writing, painting, music and other performance arts," writes Nickie Bonner

"I am a foster parent and...CCC is a wonderful resource I use to help me take care of these kids who have been neglected and abandoned by their families," writes Adam F. "I truly appreciate their help and assistance with getting clothes, personal hygiene items, and school supplies."

"As part of a couple seeking to adopt, I've quite enjoyed the experience through The Cradle," writes jayburd2020. "There are no guarantees, but we're so happy for how well The Cradle prepares its adoptive parent clients to provide the best possible environments for the children they place."

After my daughter's school library sustained hurricane damage last year, [Hands Across the Sea] came through with so many boxes of books," writes JamieS. "The kids felt so cared for and excited, and the teachers were happy and hopeful about new reading programs being put into action.

"Wings has helped thousands of families receive care and concern while their loved one is in prison," writes michelelewis. "Wings makes a profound impact on all of those who are touched by their programs and prison parties."

"Little Helping Hands has been playing a vital role in my children's development for 3 years now," writes tfpascoe. "They are learning about people in need, the environment, and just how to be better citizens."

"At the end of six months, students said such things as 'I now help my mother more,' 'I will quit bullying,' 'I want to help the poor,'" writes Barrie Owens. "It was one of the most satisfying and moving experiences of all of my volunteer and paid activities."

"They are dedicated to educating people about the dangers of SADS related conditions," writes Mike F. "More importantly, they provide encouragement and comfort to parents that have had to endure the loss of a child due to a SADS related syndrome."

"As a child psychologist in the Little Rock area, I am so thankful to have Safe Places, Inc. in our community," writes Adam14. They provide excellent prevention programs and resources for children who've experienced various forms of abuse.

"My son attends Warriors For Autism's Horse Camp," writes love2beach. "On day 7 of camp I can already see Jake blossom and grow from this experience. It has been an absolute pleasure and blessing to our family."