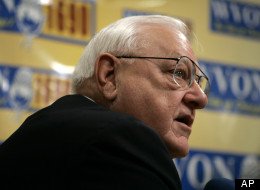 KANKAKEE, Ill. -- Former Illinois Gov. George Ryan has qualified for a work release program that will allow him to leave prison five months before his scheduled release date, according to his attorney.
Ryan, 78, is serving a 6 1/2-year sentence at the federal prison in Terre Haute, Ind., for a 2006 corruption conviction. He is scheduled to finish serving his sentence on July 4, 2013.
A Federal Bureau of Prisons spokesman would not confirm Ryan's work release date.
"It is a privacy and security issue," spokesman Chris Burke said.
On Monday, a federal court in Chicago denied Ryan's latest appeal seeking an early release from federal custody. Thompson said Ryan's attorneys will try to appeal again, although the U.S. Supreme Court already has said it wouldn't hear Ryan's case.
Thompson said that in the meantime, Ryan "sounds good. Sounds like the same old George." He said Ryan's son visits his father every week.
Ryan was convicted of steering state contracts and leases to insiders as secretary of state and then as governor – receiving vacations and gifts in return. He also was accused of stopping an investigation into secretary of state employees accepting bribes for truck driver's licenses.
___